Xiaomi Just Showed Us the Future of Gaming Laptops
A discrete GPU doesn't require a gimmicky case to function.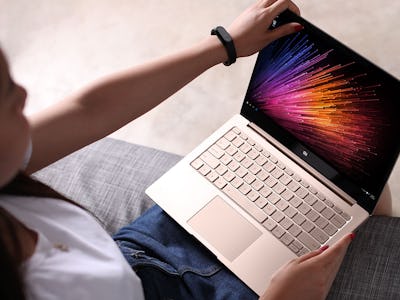 Xiaomi
Gaming laptops don't have to be ostentatious, and Chinese electronics giant Xiaomi is here to prove it.
Xiaomi's first laptop is called the Mi Notebook Air, and everything from the hardware to the name implies that it wants to beat Apple at its own game with this rival to the MacBook Air. But the 13.3-inch model costs $750 — $250 less than the 13-inch Apple counterpart. Xiaomi is well-known for selling products that compete with high-end devices, namely the DJI Phantom Drone, but at a fraction of the cost. Why change that with the Mi Notebook Air?
Xiaomi obviously wants to position the Mi Notebook Air as a MacBook Air competitor, but it might serve another calling: a bad-ass gaming laptop. Based on the inclusion of a discrete GPU and the claim that the Mi Notebook Air can run Dota 2 at 1080p with 85 frames per second, it seems like Xiaomi's new laptop is going to quickly show PC gamers who don't want to be shackled to their desks that there's a mobile, perhaps more elegant-looking, solution to the problem posed by garish gaming laptops.
That isn't to say that the Mi Notebook Air is going to be the most powerful gaming laptop on the market. It doesn't have ultra-high resolution, and it wouldn't have the power necessary to play games at the highest settings anyway. But the device will be better at playing games than most laptops on the market, especially at this price, and it has the added benefit of looking like this:
A laptop doesn't have to look a certain way just because it has a discrete GPU capable of handling popular games. It can look like any other laptop, and that's exactly what the Mi Notebook Air does by taking its industrial design cues from the MacBook Air while bearing a slightly lower price tag and running Windows so most popular games will be readily available.
Now the bad news: Right now the Mi Notebook Air has only been announced in China, where it will debut on August 2. An international release hasn't been confirmed — yet.
It looks like most of the world still has to wait to find a new laptop worth buying.