Chinese Phone Giant Xiaomi Announces Plans for Cheap, Awesome Drones
A quadcopter with a 4k camera for just $457? That's the plan.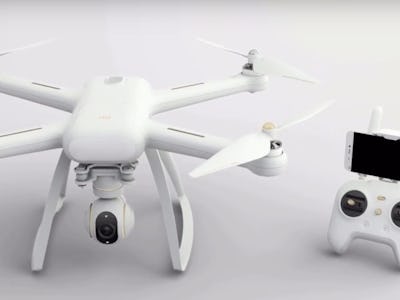 Xiaomi
Xiaomi, the Chinese tech company famous for its disruptive smartphones that briefly gave Apple a run for the top spot of the industry, is shifting its focus to the nascent market for consumer drones. And this time, it might have a chance to knock off the market leader, DJI.
Xiaomi (pronounced "show-me") announced today it will sell a drone with 4K camera for $457 (2,9999 yuan) and the model with a 1080 camera will be just $380. The cheaper version will be "crowdfunded" from within Xiamoi's "MiHome" app. There's no news yet as to whether either model will be sold outside China.
To compare, DJI's 4k drone is $800. Its drone with a GoPro Hero 3 1080 camera is $500.
Xiaomi is now making a big bet that as the drone market opens up in coming years, consumers are going to want to pay less without sacrificing quality.
With 70 million smartphones sold in 2015 alone, Xiaomi is hardly banking on the Mi Drone for its salvation. But with 2015 phone sales falling well short of both initial expectations of 100 million and even the revised goal of 80 million, the company is in need of a popular reboot as much as an economic one. Once the obscure phone manufacturer fated to overcome, now Xiaomi needs to distinguish itself within a competitive tech industry that demands innovation.
The drone market Xiaomi is entering will likely only reach $4.19 billion by 2024, hardly enough to sustain a tech titan. But the growth from 4 million drones sold annually today to 16 million in 2020 does represent an opportunity to attract consumers as yet unbound by brand loyalties to an existing manufacturer.
We'll have more news about this drone as it develops.