'Pacific Rim 2''s Cast is Shaping Up to Be Wildly Different 
Charlie Hunnam is most likely skipping out on the sequel.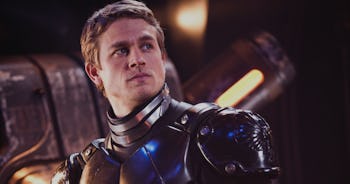 Legendary Pictures, Warner Bros. Pictures
The status of Pacific Rim 2 was really touch-and-go for a moment, as Guillermo Del Toro's love letter to Japanese culture seemed destined to be a single film. Lo and behold everyone's surprise when it was announced that not only would there be a Pacific Rim 2, but that John Boyega, fresh off the glory of Star Wars Episode VII: The Force Awakens, would star as the son of Idris Elba's character from the first film.
But in the process of making Pacific Rim: Maelstorm, some key components from the first film got lost. Guillermo Del Toro will not be returning to direct the sequel; instead, he's handing over duties to Dardevil writer and Spartacus creator Steven S. DeKnight. Now, Charlie Hunnam - who starred in the first film - has also confirmed that he will not be returning to the sequel, though not for lack of trying.
In an interview with Yahoo, Hunnam confirmed that an early version of the script involved his character "heavily", but unfortunately due to the actor's other commitments, he was unavailable for film's schedule. While this is a sad loss for the franchise – Hunnam easily held down the first Pacific Rim as its lead – it allows for John Boyega to step in and aid the franchise.
Hunnam has done great work with Del Toro in both Pacific Rim and Crimson Peak, but as the franchise changes hands, this might be a good opportunity to blaze a drastically new trail using the first film's fantastic world building and lore. Boyega deserves the space and freedom to establish himself as the lead in the sequel – and possibly beyond.
This move might also help explain why Rinko Kikuchi's Mako Mori is still unconfirmed for Pacific Rim: Maelstorm, though if Del Toro gets his wish, fans might end up seeing Game of Thrones' Maisie Williams, because one of the only things that could make Pacific Rim more awesome is Arya Stark piloting a Jagër.