'Pacific Rim 2' Is Moving On From del Toro. Here's Why That's Just Fine.
Legendary Pictures is moving forward with the monster robot franchise without its famed director.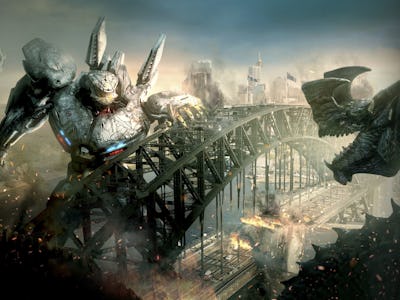 Warner Bros., Legendary Pictures
The apocalypse has been un-canceled.
Legendary Pictures have given the go-ahead for Pacific Rim 2, a follow-up to Guillermo del Toro's summer Kaijū movie from 2013 that performed modestly at the domestic box office but destroyed records overseas. Neither del Toro nor screenwriter Travis Beacham, however, will return to helm the picture. Deadline reports Spartacus creator and lead writer on Marvel's Daredevil, Steven S. DeKnight, will direct with a script from Doctor Strange screenwriter Jon Spaihts.
It's a bummer that a visionary like del Toro won't lend his gothic sensibilities to Pacific Rim 2, which I think was the secret ingredient to why Pacific Rim looked so good. But DeKnight is a budding name in a big genre, and his credits in Buffy, Spartacus, and Daredevil should instill confidence the film is in good hands. In fact, Drew McWeeny of HitFix.com spoke to del Toro, who said he gave DeKnight his blessing. "We had a fantastic meeting of the minds," he said. "We are positive that this is a great choice to take what was established and go beyond!"
Pacific Rim has been a troubled franchise for Warner Bros. and Legendary Pictures due to its lukewarm performance at the U.S. box office. But it did well in China and developed a cult following with fan conventions across the country. While del Toro fought to shepherd the sequel, he wound up making Crimson Peak, which also underwhelmed.
A few months ago, when the fate of Pacific Rim was still in question, I interviewed Joshua Fialkov, the writer of the Pacific Rim: Tales of the Drift comics. He told me the studio was adamant about moving Pacific Rim forward because it "is their baby."
"There will be Pacific Rim stuff for years to come," he said.
It is unknown when the film will release or if any of the original cast will return, although del Toro did tweet Maisie Williams from Game of Thrones should pilot a jaeger.