How 'Black Sails' Will Leave a Similar Legacy to 'The Wire' 
In light of the Starz show ending with Season 4, we pull a Jack Rackham and consider its legacy.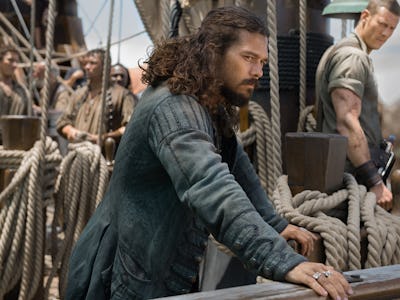 Starz 
Considering the recent news that Black Sails is ending after its fourth season, it's time for the show to follow Jack Rackham's lead and think about legacy.
By capping the drama at Season 4, Starz has ensured that Black Sails won't go the route of shows like Dexter, True Blood, Sons of Anarchy, or Weeds: A once-great show that overstayed its welcome and sailed into tepid waters. Narratively, it's clear that the Season 3 finale set the stage for the final act, so it won't halt abruptly like Deadwood, Firefly, or Penny Dreadful: all flames that were snuffed out too soon. In order for Black Sails to have a poor ending, the creators would have to go out of their way and actively try to botch Season 4. But because of the baffling lack of award recognition from the Emmys and Golden Globes, its legacy also won't be akin to Breaking Bad or The Sopranos. It will instead mirror another show: The Wire.
HBO's The Wire is widely considered to be among the best shows of all time, despite its lack of official accolades.
As a series that began in 2002, it was still in the early, pre-Game of Thrones days, before HBO's original programing becoming the cultural juggernaut it is now. Sure, Sex and the City and The Sopranos were widely known — but The Sopranos only became the first cable show to win the Outstanding Drama Emmy in 2004, five years after its start.
In short, The Wire was simply a victim of its time: It aired in the days before HBO became award-bait. But if you've seen the show, the fact that it won no Emmys is comical to the point of absurdity. Like Black Sails, its writing and acting are a cut above the rest of television and whip-smart enough for endless analysis.
As a younger network that is newer to original programing, Starz today is where HBO was in the early 2000s. It's gotten some acclaim for shows like Outlander, but awards are still taking time to fully catch up and notice. Moving its shows from Saturday to Sunday nights is doing wonders, but Black Sails will only be able to feel that boost in the final season. Similarly, as a soon-to-be cultural juggernaut show, American Gods will draw more attention than ever and start raking in more general recognition — but by then, Black Sails will no longer be on the air, just as The Wire was no longer on the air when Game of Thrones and the first season of True Detective were getting all the nods.
Game of Thrones and True Detective both deserved their accolades, but in the realm of intelligent writing, The Wire is superior to both — just as Black Sails is to Outlander. Tobias Menzies certainly deserved his Golden Globe nod for his turn as Black Jack Randall, but Toby Stephens is at the same acting level and has more screen time in Black Sails.
Woody Harrelson and Matthew McConaughey deserved nods for the first season of True Detective, but no more so than the cast of The Wire. These days, the Emmys are even embracing some Game of Thrones performances that don't require much range at all, while neither Dominic West nor Michael Kenneth Williams received award recognition for their turns in The Wire.
A disservice was done to this show, but the culture knows it. The Wire's lack of accolades has not affected its resonance and value. And when more people discover Black Sails in the future, they will be shocked to find that its writing and acting received no tokens – just as viewers newly discovering The Wire are continuously shocked. But like the latter show, it will live on as a piece of art that's still discussed and examined long past its closing.
Like Jack Rackham, Black Sails might not get all the respect it deserves right now, but its legacy will leave a lasting impact.