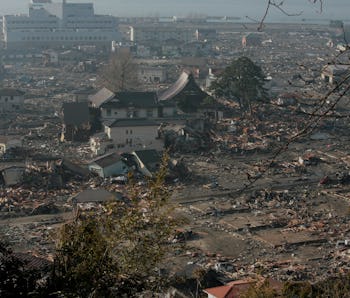 Entertainment
Pokemon Will No Longer Appear in Japan's Nuclear Disaster Site
Glitches may have resulted in Pokemon accidentally appearing.
Getty Images / Handout
Pokémon Go has encouraged players to explore local areas all over the world, but there are some areas trainers probably shouldn't venture into, like radiation-filled nuclear disaster zones. Fortunately, there's no need. Pokémon won't show up there.
Tokyo Electric Power Company Holdings Co., also known as Tepco, has asked game developer Niantic to not put any Pokéstops or in-game creatures inside its three nuclear power sites. That includes the Fukushima I plant, struck by a tsunami in March 2011.
"You can't go inside to catch a Pokemon," Tepco spokesperson Tatsuhiro Yamagishi told the Japan Times in a report published Tuesday. "We've taken measures for that purpose."
When the game launched in Japan on Wednesday, it was the first time trainers could explore in a country that had experienced a major nuclear accident. Only two events have been rated 7 on the International Nuclear Event Scale: Fukushima, and the 1986 Chernobyl incident.
Five years on, the repercussions of Fukushima aren't looking good. The evacuation orders are only just starting to lift, but two-thirds of refugees surveyed said they would never return.
A spokesperson for the Pokémon Company told Japan Times that Niantic doesn't place creatures inside nuclear plants as its policy, but glitches may have resulted in some accidentally appearing. Certain less-restricted areas around Fukushima I will receive Pokéstops and Gyms, as refugees return home temporarily.
Considering Niantic's policy, it's likely that Pokémon would not appear at Chernobyl, either. Pokémon Go is only available in 32 countries, and Ukraine has yet to make the list. The site has grown to attract a number of tourists over the years, keen to see the abandoned town that, 30 years on, is still packed with radiation in many parts.
It's unlikely that Niantic would want to be seen encouraging Chernobyl's urban explorers from visiting the site's most dangerous areas.