'Preacher' Does Right by Jesse and Cassidy's Bromance
And shocks the holy hell with Emily's ruthlessness in "Finish the Song."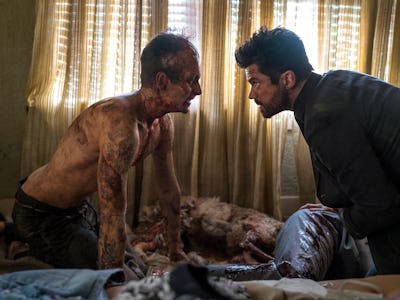 AMC
There was little doubt that AMC's adaptation of Preacher would be, at the very least, decent. Whether it was merely a noteworthy, subversive entry in this era's "Peak TV" or a fantastic adaptation of the acclaimed Vertigo comic from Garth Ennis and Steve Dillon, it would take something on the level of The Green Hornet for Seth Rogen and Evan Goldberg to screw things up.
Preacher has more or less fulfilled both of these expectations, and while the majority of its freshman year has been stubbornly opaque, this week's episode "Finish the Song" sees Preacher at last making sense and going somewhere – especially with the Saint of Killers. More importantly, the episode cements one of Preacher's most important aspects: the bromance between Jesse and Cassidy.
In the comic, Jesse and Cassidy are immediate pals, who bond when both perform a selfless act to save the other's ass (the convoluted circumstances of which make me glad the show has diverted from copying the comic panel for panel). Up to this point in the Preacher series, Jesse (Dominic Cooper) and Cassidy (Joseph Gilgun) haven't been pals so much as acquaintances. Cassidy has been more eager to establish a friendship than the good preacher — who has only tolerated Cassidy since the vampire helped him kick ass at the bar in the pilot — but has largely kept his distance. This coolness wasn't killing Preacher's most important relationship, but an important element in the series was sorely missing.
While Emily (Lucy Griffiths) surprises viewers with her cold ruthlessness when she feeds the mayor to Cassidy (still recovering from his massive burns), Cassidy and Jesse make up as friends is a heartwarming moment in a harshly sarcastic show. This is a show where people beg for a mercy kill just so they can respawn. This is a show that uses mass slaughter to characterize its unique antagonist. This is a show that blew up Tom Cruise off screen. But Jesse and Cassidy being true friends is one of the most genuine things found in this bizarre world that rests between heaven and hell.
And friendship is rare in Preacher. The two angels, Fiore (Tom Brooke) and DeBlanc (Anatol Yusef) are the closest thing to another pair of buds, but their bond was born out of a divine 9-to-5. I doubt they would both go see Elvis at whatever makes up heaven's Coachella. And again, Emily made the mayor food for Cassidy just because she didn't actually love the guy. That's ice cold.
You won't see many preachers help someone bury a body. That's what friends are for.