At the GOP Convention, Activists Have a New Tool: Live Streaming
"People can see what's going on instantaneously."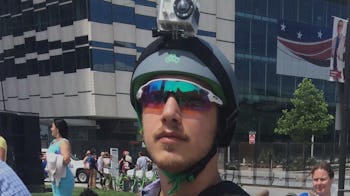 While the protests at the Republican National Convention in Cleveland have, as of Wednesday afternoon, largely failed to materialize, there are people here to document any action with the a tool that didn't exist during the 2012 political conventions — the live video stream.
Facebook Live, the streaming service that debuted in January, is far and away the most popular tool, used worldwide to document attempted political coups in Turkey, and tragically, the aftermath of murder of African-Americans by police. Ahead of the convention, you might have expected livestreaming — whether on Facebook or the other services that offer it — to be commonplace at protests.
Many livestreamers Inverse spoke with at the RNC said they see their role as part participant, part observer. They almost always see themselves independent journalists unaffiliated with major media outlets. Much of what keeps them coming out is an affinity for the cause, either explicitly or implicitly.
In 2011, with the proliferation of smart phones and the rise of the Arab Spring and Occupy Wall Street movements, regular people took to the streets to broadcast straight to their social networks without the establishment media acting as a filter. Some were longtime protesters themselves, some were new to political activism, but early sites like Ustream and Bambuser made it easy for individuals to become mobile broadcasting crews with nothing but their phone and an internet connection.
One of the prominent livestreaming groups here in Cleveland is Unicorn Riot. Niko, who often operates the stream, was out on Monday with just his phone. But Unicorn Riot also has a rig with "tethering, broadcasting, a camera, and a light on top, he added, for heavy duty streaming. Unlike most of the streamers here, they use Livestream.com, not Periscope or Facebook Live. "Periscope cuts down the quality of the video, Facebook Live does the same thing, he said.
According to its website, Unicorn Riot's mission is "to amplify the voices of people who might otherwise go unheard, and broadcast the stories that might otherwise go untold, as we further understanding of dynamic social struggles. We are committed to producing media that exposes root causes of social conflict and explores sustainable alternatives in todays globalized world."
Cop Block is a nationwide group dedicated to cop watching – that is, observing and documenting arrests on the street. For now, they like Facebook Live as a streaming platform. "It's easy to get it out there right away," said Kelly Patterson, who is from the Nevada chapter. He's been doing cop watch for around four years, and is a regular at political demonstrations. He didn't have an estimate for average number of viewers on his stream, but the Cop Block Facebook has 1.6 million followers.
"People can see what's going on instantaneously."
It isn't just independent journalists livestreaming either. Amelia Robinson of the Dayton Daily News was broadcasting on Facebook Live when she spoke with Inverse. It provides immediate access to what's going on in a way that's easy for us to deliver," she said. It's a great way for to to cover stories that aren't getting much attention elsewhere. "One you do a Facebook Live, she added, people can see what's going on instantaneously."
A man who gave his name as Walter said he just started livestreaming on Periscope within the last year. "Pretty much my role here is just to give people information," he said. "I have my political beliefs, but I don't really put that on the stream." He's sympathetic to the anti-Trump protesters, and what he called "the other side as well." He doesn't identify as a citizen journalist, and just tries to "get the information out without too much spin."
Others aren't here to livestream per se, but rather to document any instances of violence. An observer named Liber wears a GoPro on his helmet, and body armor covers his torso. "I'm here with some media guys I know, because at the last few rallies people got shot," he said. "I'm not here to be pro-Trump or anti-Trump."
Gunar Olsen is a journalist in college at Fordham in New York City. He was born and raised in Cleveland, and has come of age in a period of increasingly blurred lines between activist and journalist. Like many young reporters, he says he deeply skeptical of the idea that reporters can be truly objective, and he acknowledges that he has sympathy for the protesters. "I do see some journalism as a form of activism," he said. He uses Periscope to livestream, because he likes that it notifies his Twitter followers that he's broadcasting, and its simplicity.
There are a few signs Olsen looks for as triggers to start streaming. "Usually when there's a lot of slogans and chanting, when it's loud, and that's all you hear – that's cool, it sounds great," he said. "That's the the nice, people-power side."
There's also the photo-negative. "When I see police officers hit the ground hard, or start running, today I saw a bunch of police officers on bikes moving very fast – I'll turn on for that," he said. When police start to get weird, weird stuff can happen."