Telltale's Stylish 'Batman' Video Game Offers the Best of All Batmans
Best of all, the Batmobile doesn't look like a tank.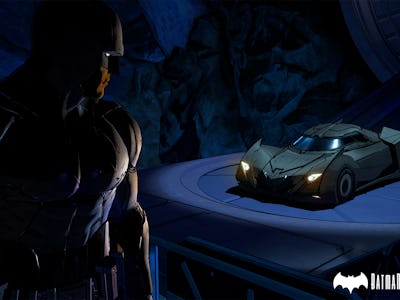 Telltale Games
Rocksteady did a fine job translating DC's Caped Crusader to the video game medium through its Batman: Arkham series. But Telltale Games, the studio that specializes in narrative-driven games, takes on the Batman saga with Batman: The Telltale Series, when it releases it on August 2. Its first trailer shows a game that's already a candidate to be one of the finest interpretations of the world's greatest detective.
Sporting a stylish, subtly cel-shaded comic book look (a signature of Telltale since its The Walking Dead games set in Robert Kirkman's graphic novel series), the new Batman video game will offer a noir narrative that's set in a Gotham City — part-art deco, part-Christopher Nolan. In the trailer, Harvey Dent, Gotham D.A. and yet-to-be villain Two-Face, has been soliciting votes from Gotham's biggest mob family headed by crime boss Carmine Falcone. While that kind of plot doesn't sound like it will result in a lot of "BOOM!!!" word bubbles, rest assured that Bruce Wayne will inevitably suit up as Batman — and encounter the likes of Catwoman, who has a prominent presence in the trailer.
The game's aesthetics is an amalgamation of all Batman media, from the comics to the movies to even Batman: The Animated Series. The costume looks like a retooled Batsuit Christian Bale wore in The Dark Knight while the Batmobile looks like a cross between the Tumbler from Batman Begins and an actual car, like the iconic Batmobile from the 1966 Batman TV show that starred Adam West. The characters, meanwhile, look like they jumped straight from the pages of the New 52 comics written by Scott Snyder.
Batman icons like the Joker and Penguin don't make an appearance, but perhaps it's only a matter of time. Because Telltale releases its games in an episodic format, it's possible they'll show up in future "episodes."
The first episode of Batman, "Realm of Shadows," will be playable on Xbox One, Xbox 360, PlayStation 4, PlayStation 3, PC, and Mac on August 2.