Everything to Know About 'The Walking Dead Michonne' From Telltale Games
'The Walking Dead' spin-off game releases February 23. Here's what you need to know before you play.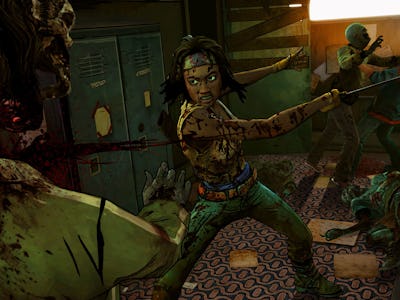 Telltale Games
In a few short weeks, Telltale Games will release The Walking Dead: Michonne, a miniseries spin-off of its acclaimed story-driven games based in The Walking Dead comic book universe.
A new, lengthy blog post from Telltale reveals all the nitty gritty details, plus some hints to what lies within the story. Here's what you need to know:
The game will be available February 23 and playable on (deep breath) PC, Mac, PlayStation 4, PlayStation 3, Xbox One, Xbox 360, and, later, iOS and Android devices via the App Store, Google Play, and Amazon on February 25.
The miniseries will be told in three episodes. The first, "In Too Deep," releases this month and will be followed by "Give No Shelter" in March and "What We Deserve" in April.
The game takes place between issues #126 and #139, revealing what led Michonne to temporarily leave her trusted group.
"In Too Deep" begins with Michonne joining Pete and his sailing crew aboard his ship, The Companion, cruising for whatever survivors and supplies they find. They stumble upon Monroe, a survivors' colony after a horrific massacre — with the person responsible hiding within.
Telltale Games is being predictably vague about what Michonne will really be about, but the company promises it will be "decidedly very different" and will "explore some themes we're [Telltale Games] truly excited about bringing to the interactive space."
The first five minutes will be broadcasted on Telltale Games' YouTube channel on Sunday, February 14 at 8:30 p.m. EST. That's about a half-hour before The Walking Dead returns to AMC.
The Walking Dead: Michonne was announced during last fall's Video Game Awards, and will feature a story-driven narrative gameplay, as opposed to typical action or shooting. Michonne may have a sword, but don't expect to swing like it's Mystical Ninja Starring Goemon.