Why Didn't SpaceX Land the Falcon 9 on a Droneship This Time?
It all has to do with how high the Falcon 9 rocket actually goes and comes back from.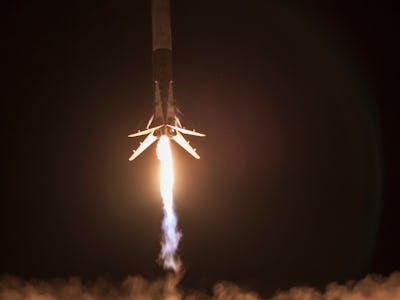 Getty Images / NASA
SpaceX, the private aerospace company that broke through to the mainstream for landing its Falcon 9 rocket on a football-field-sized "droneship" off the coast of Florida, landed a rocket back on terra firma very early Monday. Here's why.
In the wee hours of the early morning on Monday, SpaceX successfully dispatched its Dragon crew capsule filled with 5,000 pounds of cargo to the International Space Station (the Dragon arrives at the ISS on Wednesday). Its Falcon 9 booster rocket landed back on the ground at Cape Canaveral Air Force Station in Florida about eight minutes into the mission:
Although it was the company's fifth rocket landing overall, it was only the second time the company has achieved such a thing on solid ground. The previous three successful landings were all attempted on the company's Of Course I Still Love You droneship, floating in the Atlantic:
SpaceX's December 21 landing on solid ground was a pivotal moment for the company's future and the future of commercial space exploration — yet Elon Musk did not attempt another landing on solid ground until now.
What gives?
Its important to remember the ISS orbits Earth at 249 miles in altitude — firmly in low Earth orbit (LEO). Before Monday, the last three SpaceX missions sent Falcon 9 rockets out to geostationary orbit (GTO) — which is a staggering 22,236 miles above the earth's surface. In each of those instances, the company landed the rocket on its droneship in the middle of the Atlantic Ocean.
Getting a rocket back down from GTO is a much tougher feat. Not only are you more at risk of losing too much fuel before you can conduct a successful landing (which is what happened in the landing attempt this past June, but it's simply tougher to bring the first-stage rockets back to one specific place after they've gone up that high.
A droneship can maneuver around a certain set boundary to provide some flexibility for the rocket so that more fuel isn't required for a back burn to navigate it over extraordinary distances.
Musk published a blog post on the SpaceX website the day before the company accomplished its first rocket landing on solid ground (which was for — you guessed it — an LEO mission) that touches on these things and provides some more detail.
The next SpaceX launch, set for some time in August, will send another satellite into GTO. That launch will almost assuredly mean a drone ship landing will follow the payload deployment.