7 'Doctor Who' and 'Star Wars' Connections That Will Blow Your Mind
Yep,  Jyn Erso was on 'Doctor Who.'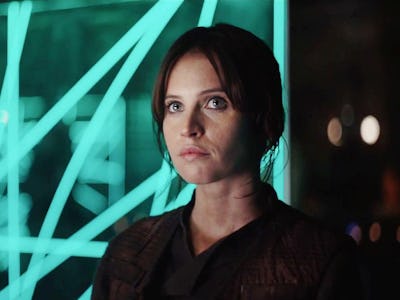 Thanks to the recent Star Wars Celebration this weekend, fans of Star Wars: Rebels got a ton of new information this weekend, but Doctor Who fans got a nice morsel, too. Beloved actor Tom Baker will be lending his voice to a new Star Wars character called The Bendu in the third season of Rebels!
Baker's character will be a mysterious animal-esque alien who exists somewhere between the light side and dark side of the Force. Baker is famous for his long-scarf-wearing turn as title role on Doctor Who from 1974-1981. Mixing Star Wars talent with Doctor Who talent might not make a lot of sense right away –as one is a sprawling space epic about an awesome inter-dimensional hero, and the other is about a weird dysfunctional family who manage to screw up the entire galaxy. Here are seven of the most surprising actor-crossovers between Doctor Who and Star Wars.
David Tennant
Consistently voted as everyone's favorite version of the Doctor, Tennant's portrayal of the renegade Time Lord is largely why the revamped version of the show found new fans back in 2006. For The Clone Wars Tennant's energetic voice belongs to Professor Huyang a droid who teaches Jedi to build lighstabers.
Julian Glover
In The Empire Strikes Back Julian Glover plays one of the few cronies of Darth Vader who doesn't get choked: General Veers! In the Doctor Who serial "City of Death" Glover played Scaroth, an alien who stole the Mona Lisa and looked ridiculous. You also might remember Glover as being the villain in Indiana Jones and the Last Crusade. (Hint: he choose poorly.)
Hugh Quarshie
After playing second-fiddle to Queen Amidala in The Phantom Menace, Captain Panaka got to see some serious action on Doctor Who. Hugh Quarshie might not be beloved for his Star Wars role, but in the 2007 Doctor Who episode "The Daleks of Manhattan" he plays a pretty dope human who does not bow-down to anyone.
Garrick Hagon
He played Luke Skywalker's best friend in A New Hope, and he's been on Doctor Who twice. Once back in 1972 in an episode called "The Mutants," (sadly not an X-Men crossover) and then again in 2013 in the Matt Smith era of Doctor Who in an episode called "A Town Called Mercy." Point here: Biggs has been in more Doctor Who stuff than Star Wars stuff.
Warrick Davis
He played Wicket the Ewok in Return of the Jedi and a slew of other Star Wars characters throughout the saga. But, do your remember when our-man-Willow showed up in the 2013 Doctor Who episode "Nightmare in Silver?" That episode was written by Neil Gaiman, too!
Peter Cushing
He would not evacute during his moment of triumph in A New Hope, but Peter Cushing will be forever famous as Grand Moff Tarkin. Still, he bizarrely played the title role of 'Dr. Who' in two films: Dr. Who and the Daleks and Daleks: Invasion Earth 2150 A.D. These are notable because they don't count as "real" Doctor Who since his name is actually just "the Doctor," and also that Cushing's version of the characters is fully human, whereas the "real" Doctor is an alien from the planet Gallifrey.
Felicity Jones
Oh yeah, did you know the lead of the impending Star Wars jamboree, Rogue One was also on Doctor Who? That's right, before becoming mega-famous, Felicity Jones guest-starred in the 2008 episode of Doctor Who titled "The Unicorn and the Wasp." As Jyn Erso in Rogue One Jones is set to play someone with a criminal record. In this Doctor Who episode she was a jewel thief named "The Unicorn." She also had a flapper-look, which is probably something Rogue One will not incorporate.