Meet the Seven of 'The Magnificent Seven' in New Trailer
See who's who in the cowboy squad directed by Antoine Fuqua.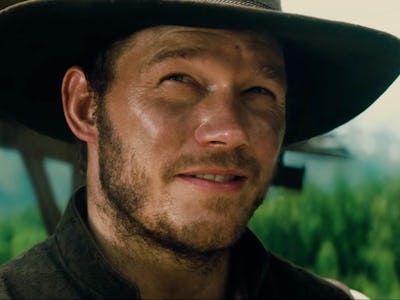 YouTube.com/Sony Pictures Entertainment
A trailer released Monday for Antoine Fuqua's remake of the 1960 film The Magnificent Seven offers a sketch of what role each of the seven play against an evil industrialist seizing a small town.
Seven' is actually retelling of Akira Kurosawa's The Seven Samurai from 1954, and the 2016 version stars an ensemble cast with Denzel Washington, Chris Pratt, and Vincent D'onofrio, with Peter Sarsgaard as the villain Bartholomew Bogue.
Here's a rundown of Fuqua's seven in The Magnificent Seven:
Denzel Washington plays Sam Chislom, a bounty hunter who takes up the job from Emma Cullen (Haylet Bennet) to protect the town from Bogue's take-over. In the 1960 original, Yul Brynner played Chris Adams, who fulfilled the same role as the seven's shot caller.
Chris Pratt's Josh Farraday is a hard-drinking gambler whose specialty lies in explosives. Expect kabooms.
Manuel Garcia-Rulfo plays Vasquez, whose generic role is "Outlaw." Guess that just means he's good with a gun and should technically be arrested?
Ethan Hawke's Goodnight Robicheaux is a sharpshooter who by far has the best name in the entire movie.
Korean actor Byung-hun Lee plays Billy Rocks, an assassin who shows expertise with knives and close combat. There's a history of Asian immigrants in the western frontier, though none had the resources to become badass outlaws like Billy Rocks due to their restricted labor to the railroads and laundry services.
Martin Sensmeier plays Red Harvest, a Comanche warrior. In a refreshing change of pace from recent Hollywood white-washing, Sensmeier is of Tlingit, Koyukon-Athabascan, and Irish descent and was raised in a Tlingit Coastal Community in Alaska.
And finally, Vincent D'Onofrio's Jack Horne is a master trapper and tracker, though the trailer just shows him chuck a tomahawk at some poor schlub.
Fuqua's The Magnificent Seven opens in theaters on September 23.