'Pokken' Finishes Up at EVO '16 as 'Pokemon Go' Takes Over the World
The fighting game premiered at EVO this year.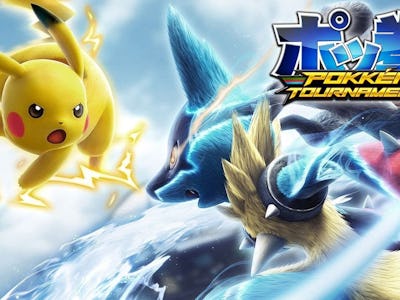 Nintendo, Bandai Namco
While the world completely halts to a stop due to the sheer power of [Pokmon Go](https://www.inverse.com/article/18163-how-to-fight-in-pokemon-go), Las Vegas hosted a completely different Pokémon experience at its annual fighting game tournament, Evolution Championship or EVO. This weekend saw the debut championship for Pokkn Tournament a fighting game developed by Bandai Namco studios based on their martial arts fighting game, Tekken.
Pokkén was released in 2015 for Japanese arcades before releasing worldwide on Nintendo's Wii U console. Featuring the three dimensional combat Tekken is famous for - as opposed to the 2D battleground of games like Street Fighter. Designed for more casual combat compared to the technical combo-driven gameplay required to play the more famous fighting games.
That doesn't mean Pokkén is any less enjoyable or exciting when played a competitive level. While overshadowed by the highlight titles of Street Fighter V and Tekken 7, Pokkén has the benefit of featuring a roster filled with some of the most popular Pokémon. As Pokémon Go has demonstrated since its release, that's probably more than enough for video game fans. And while its presence at this year's EVO might be slight, the top two ranking players, HA "Tanosama" and Ageta "Buntan" Kazunori, will automatically qualify for the Pokkén Championship World Finals in San Francisco this August.
Like Pokmon Go, Pokkén is a kind of a new genre for the Pokmon franchise to explore. Although Pokémon characters have made appearances in fighting games previously, most popularly in Nintendo's Super Smash Bros. franchise, Pokkén follows a more traditional strain of Japanese developed fighting games.
Even as Pokémon celebrates its 20th anniversary, the mega-franchise shows no signs of slowing down. As the series keeps finding new legs in the realm of both AR and fighting games, it only goes to show that Satoshi Taijiri's collectible monster game is an enduring, global phenomenon. As long as Nintendo is willing to experiment with the series, it will continue to perpetuate itself as a beloved cultural institution all around the world.