Turkey's Military Coup Is Playing Out on FaceTime and Twitter
The Turkish Military has claimed control of the government.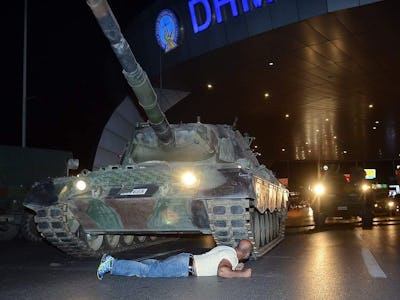 Reuters
Today, during a military coup in Turkey, Twitter became home to livestreams, videos, and on-the-ground documentation at the hands of civilians and journalists in the area. New reports say that the government may be blocking or slowing access to social media networks in the wake of the coup, which seems to be happening a lot in these situations as of late. Despite limited access, photojournalists and locals have done their best to use different social media outlets in order to document the coup.
Perhaps that was what made tonight so sourly ironic. Just a few hours into the coup, the Turkish President Recep Tayyip Erdogan used FaceTime to do an interview that was then broadcast on Facebook Live. The President's whereabouts at the moment are unknown, but that's likely for obvious reasons.
The reaction to this irony was swift:
President Barack Obama met with Senator John Kerry to discuss the matters in Turkey, and the White House (along with the U.S. Embassy in Turkey) shared the following statement on their behalf:
"Turkish Armed Forces have completely taken over the administration of the country to reinstate constitutional order, human rights and freedoms, the rule of law and general security that was damaged," read a statement released by the military. "All international agreements are still valid. We hope that all of our good relationships with all countries will continue."
Social Media moves at the speed of light when it comes to circulating news. Outlets like Twitter, Periscope, and Facebook Live have become the source of eyewitness reports, giving everyday internet users the ability to spread news, share their opinions on that news, and then fight about those particular opinions. But more importantly, it has documented massive changes in our world, both light and grim. Last night, Facebook activated its Safety Check for the fourth time this year so that loved ones could connect with their relatives after the attack in Nice, France. Diamond Reynolds took to Facebook Live to document the shooting of her boyfriend.
UPDATE: 11 p.m. Eastern
Pro-coup Turkish soldiers briefly took over CNN Turk's studios while the station was broadcasting to Facebook live.
The group has been arrested and CNN Turk is continuing to update on the situation. 
This story is developing.