Attack in Nice Prompts Facebook Safety Check, Shelter Hashtags
The Deputy Mayor of Nice confirmed that at least 80 people have been killed.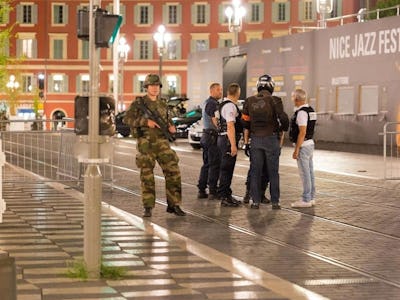 Getty Images
A devastating attack in Nice, France has left over 80 dead and several more injured after a cargo truck plowed through a street full of people. The attack occurred during a Bastille Day celebration at the Promenade des Anglais, leaving horrific images of the aftermath on timelines everywhere.
Within an hour of the attack, Facebook activated its Safety Check for residents of Nice. The attack is now the fourth one this year that was considered devastating enough to warrant the tool's activation. The last Safety Check activation occurred last month after a horrific terrorist attack in Istanbul.
Over on Twitter, the hashtag #portesouvertesnice is being used to help victims of the attack find shelter nearby. Hotels, Inns, and everyday citizens opened their doors in the wake of the attack, using the hashtag as their primary form of communication to get those nearby indoors.
Google chimed in to help by opening up lines for free calls for users to France via Voice, Hangouts, and its other services:
The attack came just hours after France announced that it would lift the state of emergency placed on the country after last year's terrorist attacks in Paris. The Deputy Mayor of Nice, Christian Estrosi, confirmed the deaths of over 80 people, and said that the truck was filled with weapons and explosives. New witness reports say that the person — or people — responsible for the attack leapt from the trucks and began firing on the crowd.
President Barack Obama released a statement on the events in support of the people of France and the victims:
The tragedy has not yet been confirmed as a terrorist attack, but the person behind the attacks is now confirmed dead after a stand-off with police. 
Update 7/15 8.15am ET: Story has been updated to reflect the number of people that have died.