Zuckerberg Announces Facebook Safety Check for Istanbul
In the wake of the terrorist attacks in Istanbul, Mark Zuckerberg took to Facebook today to announce the re-opening of one helpful tool that no one is ever excited to use.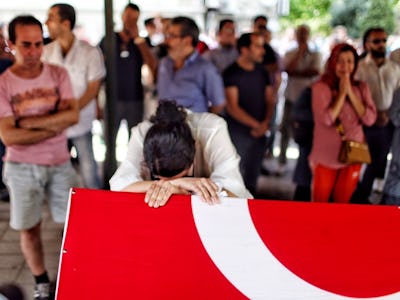 Getty Images / Defne Karadeniz
When strategies and software are created with the intent of following a mass tragedy, there's an understandable lack of enthusiasm when it comes to using available helpful tools. Facebook's Safety Check, which has been used twice already this year in response to terrorist attacks, was originally launched in 2014 as a response to the horrific earthquakes and tsunami that rocked Japan in 2011. Since then, Safety Check has been used in the wake of terrorist attacks and natural disasters, and was notably blocked from activation by the Turkish government after the bombing that occurred earlier this year in Ankara after the government shut down access to Facebook from within its borders.
As officials continued to pore over footage in order to identify the three suspects, Mark Zuckerberg took to Facebook today to express his grief and announce Safety Check's re-opening.
The team behind Facebook's Safety Check has been fairly quiet about how they choose their tragedies, and the post was slammed with criticism about the function, as well as Facebook's choice to create icon flags for Paris and not Turkey. Zuckerberg had previously commented on similar questions in the wake of Paris's Safety Check, saying that he "talked with our employees on the ground, who felt that there was still a need that we could fill," but the company has since promised to open up Safety Check for more emergencies in the future.
Tuesday's tragic suicide bombings took the lives of 42 people and injured more than 230 others who were traveling and working in Istanbul's Ataturk airport. Hundreds are still hospitalized, and the government has called for a day of mourning in response.
"The citizens of Turkey have long been among the most active and engaged in our community — spreading empathy and connecting with each other," Zuckerberg wrote, pushing for solidarity with the victims in the wake of the tragedy. "Let's keep connecting. Empathy, not violence, is the path to greater understanding and peace."