Facebook Activates Safety Check After Brussels Attack for Second Time in 2016
The world's largest social network is checking in with people in Belgium after ignoring others elsewhere.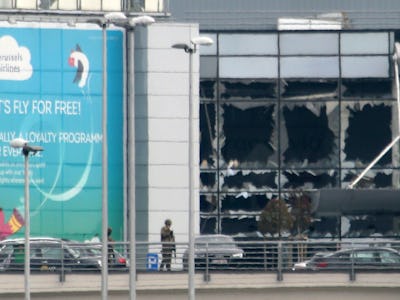 Getty Images
In the wake of a series of bombings in the Brussels airport and subway Tuesday morning that have left at least 28 dead and more than 60 wounded, Facebook has reactivated Safety Check, allowing users in the area to let their friends and family know they are safe. Facebook first unveiled Safety Check following the April, 2015 earthquake in Nepal. The Paris bombings and terrorist attack in November, 2015 triggered the first use of the system outside of a natural disaster. It has subsequently activated in response to attacks by Boko Haram in Nigeria and a major bombing in Ankara, Turkey. Turkey's government shut down Facebook and Twitter immediately after the bombing though, stymying the Ankara activation.
The Brussels activation will likely renew calls for Facebook to clarify which terrorist attacks it considers worthy of the tool. Despite frequent violence around the world, the tool has only activated four times in response to violent attacks. Mass killings in Beirut, Iraq, Mali, and Afghanistan have all claimed as many lives as the attacks in Belgium, but have not warranted a Facebook Safety Check. The social media's site perceived focus on countries that rarely see violence has led to accusations that the safety check service is inconsistently applied.
Mark Zuckerberg, Facebook's CEO, previously addressed criticism in a post on the site, saying that the Paris attacks had convinced the company to rewrite its policy on the use of Safety Check to include violence attacks and not just natural disasters. But that in the future, they "now plan to activate Safety Check for more human disasters going forward as well." As for why the Paris attacks provoked Facebook to change its policy, a follow up post on the Safety Check page clarified that the company's employees were already noticing people turn to social media to learn of the status loved ones, so the decision made sense.
We chose to activate Safety Check in Paris because we observed a lot of activity on Facebook as the events were unfolding. In the middle of a complex, uncertain situation affecting many people, Facebook became a place where people were sharing information and looking to understand the condition of their loved ones. We talked with our employees on the ground, who felt that there was still a need that we could fill.
Facebook has now helped draw the attention of the world to the attacks in Brussels. With authorities placing the city on near lockdown, Safety Check is a valuable tool for those who cannot reach out to all their friends and acquaintances or have more pressing matters to think about. It is a genuinely helpful service that seems to be proving its potential usefulness one tragedy at a time. What works for Belgium, it seems, could be made to work for Damascus.