See Every U.S. State's Most-Wanted Pokemon in 'Pokemon Go'
Which pocket monster is your state most desperate to catch?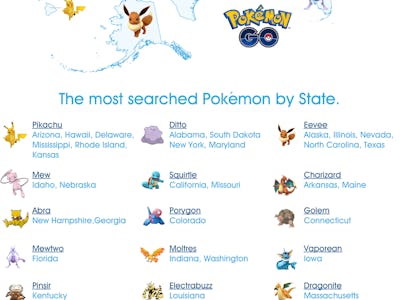 In Nintendo and Niantic's Pokémon Go, the hunt to become a Pokémon Master is on. The augmented reality app that unleashes virtual monsters into our real world have children, teens, and nostalgic millennials scrambling for their favorite Pokémon near churches and college campuses everywhere. Everyone has a favorite Pokémon, but it turns out some states are crazier about catching certain monsters than others.
Commerce site Decluttr dived in to determine what the most sought-after Pokémon are in every state, and the discoveries are equal parts predictable and strange. Hey, Kentucky: Why do you guys want Pinsirs so much?
Some states are predictably looking for Legendary Pokémon like Zapdos (New Mexico, Tennessee), Moltres (Indiana, Washington), and Mewtwo (Florida — of course Florida wants an overrated monster who can control minds). But others are on the hunt for surprising choices: South Carolina wants Staryus, a basic Pokémon I frequently pass on my commute. Alabama, South Dakota, Maryland, and New York are all after Dittos, a lame-faced wad of snot whose only real ability is turning into whatever it's fighting. Colorado wants Porygons, because Porygon is the equivalent of listening to The Dark Side of the Moon and playing Tetris while tripping acid.
North Dakota, on the other hand wants Scythers, which is cool and all. If you're reading this from North Dakota… you jealous?
Wisconsin wants Metapods. Not Caterpies, Metapod's previous form that's actually cute and precious, and not Butterfrees, the strong final evolution with great maneuvers. No, Wisconsin wants Metapods, damn it, even though they might actually be the most boring Pokémon on the list.
Montana, California, and Utah are after Bulbasaurs, Squirtles, and Charmanders respectively, the starters that players get in the beginning of the game. This would be hilarious if not for the fact Pokémon Go is all about finding more of the same creatures if you want to level them into mega beasts like Blastoise (Wyoming wants 'em) and Charizard (taunt Arkansas and Maine if you have one), so the former three states might actually be on to something.
And yes, the most sought-after Pokémon is Pikachu, the franchise's mascot, with residents in Hawaii, Kansas, Mississippi, Rhode Island, Arizona, and Delaware all demanding the yellow mouse be a part of their collections.
Check out which Pokémon your state yearns for below.