Felicity Jones Given a 'Rogue One' Toy After Rey Controversy
Why Gwendoline Christie's presentation of the Jyn Erso action figure is pointed.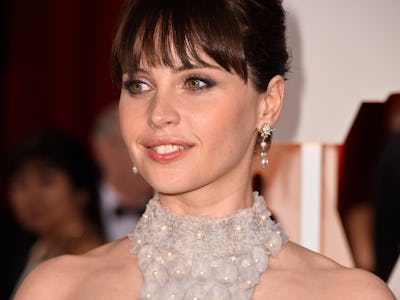 Getty Images / Frazer Harrison
The Star Wars Celebration's Rogue One, panel contained a slew of surprises and sneak-peaks, but its early response to a fan controversy was probably the most poignant moment of the entire discussion.
After revealing new behind-the-scenes footage from Rogue One: A Star Wars Story, the event's host, Game of Thrones alum and Star Wars actor Gwendoline Christie, presented Felicity Jones with the first official Jyn Erso action figure. Christie pointed out that this was the first Rogue One toy to be revealed, and Jones responded that she was excited to be part of the "Star Wars doll universe."
What's relevant here is the simple fact that though this is the second Star Wars film in two years to feature a woman in the lead role, last year's The Force Awakens failed to produce a stand-alone standard 3.75 inch action figure for that film's heroine, Rey (Daisy Ridley), until months and months after the film's release.
Outside of her inclusion in boxed-sets, and a speeder-bike version of the character, it was exceedingly difficult to find toys based on the character upon their first release and up through the film's debut; it was basically impossible to find a stand-alone 3.75 inch action figure of Rey. This outraged fans, and the controversy only got uglier when it was revealed that Hasbro execs may have made the decision to not release a Rey action figure because: "No boy wants to be given a product with a female character on it."
Obviously, eventually a 3.75 inch version of a Rey action figure became available, and easier to find. But insult to female fans of Star Wars, and all fans of Rey, was still keenly felt. This revelation then, at the very top of the Rogue One panel, that there is a Jyn Erso action figure, and that she is the first of the new toys is telling. The powers-that-be at Hasbro and Star Wars seem to have listened to their fans and made it clear they're very proud of their female heroes.