Congresswoman Jackie Speier Proposes Ban on Revenge Porn
Sharing intimate pictures is immoral, and it might become a federal crime.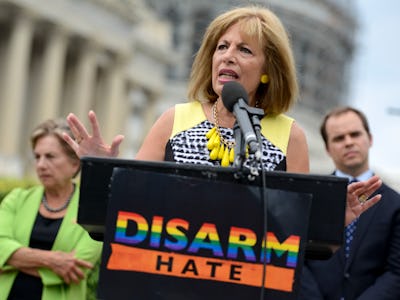 Getty Images / Leigh Vogel
Congresswoman Jackie Speier introduced the Intimate Privacy Protection Act to Congress today, taking a hard stance against the immoral practice of sharing sexually explicit images without proper consent.
"Technology today makes it possible to destroy a person's life with the click of a button or a tap on a cell phone. That is all anyone needs to broadcast another person's private images without their consent," Speier said in a statement. "The damage caused by these attacks can crush careers, tear apart families, and, in the worst cases, has led to suicide."
IPPA would make it illegal to share those images without the consent of their subjects, whether that takes the form of revenge porn shared after a breakup, the release of nude celebrity photos, or the distribution of sexually explicit images of people in nursing homes, to name a few scenarios that are covered by the bill. IPPA has drawn support from both political parties; victims rights organizations; and technology companies like Facebook and Twitter, both of which have banned revenge porn from their respective platforms.
Until now, revenge porn has existed in a curious state of semi-legality, without any unifying federal legislation covering what is clearly a criminal act. Some 34 states have already introduced similar laws, but IPPA is supposed to unify these rules and make it so anyone in the U.S. has legal backing in their fight to protect their privacy. That's a much better solution than requiring women to copyright their breasts — which in itself is an invasion of privacy that requires sending a nude photo to the U.S. Copyright Office — so they can force revenge porn sites to remove images that they never expected to be shared with the general public by someone they had trusted.
"Celebrities and other high profile victims might be able take on these predators in civil courts, but the average person can't afford that option," Speier said in her statement. "Even more disturbing is the number of victims who have mustered the courage and strength to pursue criminal charges, only to learn there is no law that protects them. My bill will fix that appalling legal failure."
IPPA will also provide safe havens for people who worry that banning the publication of sexually explicit images could violate freedom of speech. The bill "contains explicit statutory protections for First Amendment rights" and was written so that the "disclosure of private information that is public, voluntary or in the bona fide public interest would not be criminalized," according to Speier's announcement.
All told, the IPPA sounds like a compromise anyone can get behind — and, based on its bipartisan support as well as backing from other important organizations like the National Organization for Women, many people already have. It probably won't stop people from sharing revenge porn, but it should at least give them pause, and give their victims the ability to retake their privacy through the courts.