Dave Filoni Just Made an Unexpected 'Star Wars' Revelation
Because of fan support, Ahsoka Tano is definitely returning.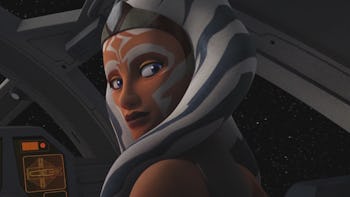 Speaking just now at Star Wars Celebration in London, Dave Filoni, the showrunner of the animated series Star Wars: Rebels and Star Wars: The Clone Wars, dropped an unexpected revelation: We haven't seen the last of fan favorite Ahsoka Tano!
During a panel featuring voice actor Ashley Eckstein, both Filoni and Eckstein, talked about the last shot we saw of Ahsoka after her emotional lightsaber duel with Darth Vader in the Season 2 finale of Rebels. He mentioned that he also knows what her "journey into the underworld means." And just as the panel wrapped up, Filoni paused and revealed that the very popular former-apprentice of Anakin Skywalker is indeed coming back.
"After the [fan] reaction," Filoni said, pausing almost dramatically, "it just might be possible to see her again. She might have something to do." Filoni prefaced this by saying that going into Season 2, he was "Very adamant after Season 2 that this was it for Ahsoka on Rebels," and hadn't intended to bring her back. But, he emphasized that because the fans grew to love her over the years, that they would, in fact, see her again. He also revealed that when the character was introduced in 2008 that he and George Lucas knew that "people were either going to love her or hate her."
On the fact that Ahoska is returning, Filoni emphasized, "It doesn't necessarily mean what some of us would want it to mean." This could be taken either as Ahsoka will be back, but perhaps not on Rebels. Or could this revelation mean something else? Could the most popular character from The Clone Wars show up in a live-action Star Wars film?
After the revelation that Saw Gerrera, a minor character from the cartoons, will appear in Rogue One, what's to stop Ahsoka from showing up in the Han Solo movie, or maybe even Episode VIII?