Gay of Thrones, Steve Buscemi, Honest Trailers, Among Emmy Web Noms
Some of the the most "outstanding" television isn't even TV.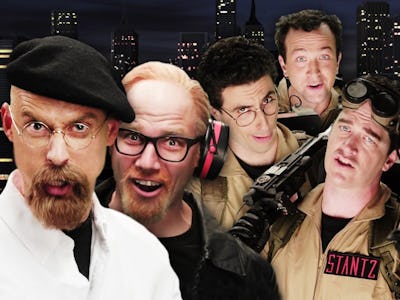 With the new 2016 Emmy nominations just revealed, television critics and fans can start to place their bets on their various stalwart prestige shows like Game of Thrones, Better Call Saul, Mr. Robot, and The Americans. But, amid the usual categories this year, was a brand-new one: Outstanding Short-Form Variety Series. Essentially, fun web-based videos have now been elevated to an Emmy-worthy level, a status that was previously withheld. In fact, just a few years ago, it probably would have been impossible to conceive of spoof productions like Epic Rap Battles of History or Honest Trailers to be considered for "serious" television awards, but that's exactly what has happened.
What's particularly notable about this category — and its nominees — is how it fundamentally relies on a preexisting understanding of TV and film culture. In a sense, the elevation of this genre demonstrates how multi-media commentary on other programs, or the entertainment industry itself, looks to be its own emerging art form. In the case of a few of these nominees, they've been around for a while. And with the creation of this category, it looks like this kind of thing is here to stay.
Here's a look at all five nominees.
Epic Rap Battles of History
Created by Peter Shukoff (aka Nice Peter) and Lloyd Ahlquist (aka EpicLLOYD), this series first hit the internet in 2010. Initially, the fake rap battles were predominantly between historical figures. Now, that's expanded significantly to include, well, pretty much anyone.
Gay of Thrones
A Game of Thrones recap show, which stars a hairstylist named Jonathan Van Ness. Not a spoof, this is pretty much Van Ness doing someone's hair as he talks about Game of Thrones.
Honest Trailers
Produced by Screen Junkies, this series has been around since 2012. They make-fun of really popular movies by making observations that either everyone has made about the film or observations no one has made.
Making a Scene with James Franco
This is a seat-of-the-pants show where James Franco and a small production team make various scenes by spinning a wheel and mashing-up stuff from pre-existing films. The first episode blends Dirty Dancing with Reservoir Dogs, and it's pretty great.
Park Bench with Steve Buscemi
Of all the nominees, Steve Buscemi's might be the most meta. In the first episode, Buscemi talks about how hard it is to make new shows, and how there must be a way to "do it quick" and "do it easy." The very nature of Park Bench with Steve Buscemi seems almost like it created this new short-form category by default. Are all the other nominees just orbiting this one?