The Biggest Emmy Snubs of 2016 
'The Leftovers', 'Penny Dreadful', 'Jessica Jones', 'Black Sails', and more of this year's snubs.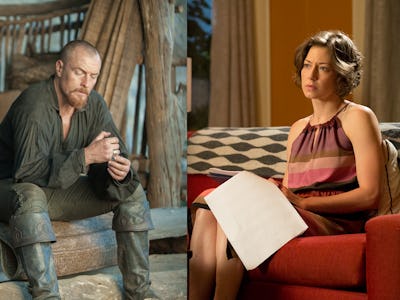 Award ceremonies are all far more political than we'd like to admit. There are infinite behind-the-scenes shenanigans we're not privy to. Maybe one show's creators pissed off the wrong person. Maybe another show didn't do enough ass-kissing. Maybe Emmy voters aren't casting a wide enough net for the shows they consider. Regardless, every year sees some head-scratching snubs, and this year's Emmy nominations are no exception. Although it delivers some welcome recognition for The Americans stars Keri Russell and Matthew Rhys, it ignored other performances of undeniable power. Here are the biggest snubs of 2016.
Jessica Jones: David Tennant, Krysten Ritter
Netflix's Jessica Jones was not a perfect show — its pacing saw a dip in the middle of Season 1. That said, David Tennant delivered one of the best performances of his career as the electrifying, terrifying Kilgrave. And as the titular character, Krysten Ritter was up there with any of this year's leading ladies. Vulnerable, intense, and prickly, her rendition of Jessica Jones is a performance that should not have been ignored.
Black Sails: Toby Stephens, Luke Arnold, Toby Schmitz
Starz's Black Sails might have flown under award radars in its first season, but three seasons deep, Toby Stephens's nuanced performance as the complicated Captain Flint cannot be ignored. His every facial expression conveys at least five different emotions at once; his every movement telegraphing seething rage beneath his cold exterior. Toby Stephens as Flint is an actor-character match that's akin to Bryan Cranston as Walter White. When he breaks down in tears in the third episode and gives an earth shattering monologue in the fifth episode, both moments act circles around anything else on this year's TV.
Overlooking Stephens is the biggest mistake, but by Season 3, Toby Schmitz as Jack Rackham is another major snub. He might have begun the show as a comic-relief side character, but in this season his every dialogue scene contains several different layers — playfulness, heartfelt emotion, and a keen intelligence. As a trickster with depth, his performance is as nuanced as past Emmy winner and current nominee Peter Dinklage as Tyrion on Game of Thrones. And finally, Luke Arnold as John Silver delivered a performance that was alternately vulnerable, calculating, and downright menacing. He might have started the show seeming like a stereotypical con man type, but by Season 3 — especially in episodes 3, 7, and 10 — his performance is every bit as standout as any of this year's Best Supporting Actor contenders. If Kit Harington is getting a nod, there is no reason Luke Arnold is not.
The Leftovers: Carrie Coon, Justin Theroux, Christopher Eccleston
It's egregious enough that HBO's The Leftovers was not recognized for Best Drama. "International Assassin" is one of the most exquisitely rendered episodes of the last ten years. But as Nora Durst, a woman who has lost her entire family and is constantly on the brink of losing her mind, Carrie Coon has been one of the best parts of The Leftovers since its admittedly inconsistent first season. But in its beautiful, groundbreaking second season, Coon took Nora to the next level, taking us into her panic, her despair, and her occasional penchant for ruthlessness.
As an outspoken preacher, Christopher Eccleston's Matt could have come across as a "type" but Eccleston infused Matt with pathos and humanity that should not have been overlooked. Finally, opposite Coon, as the leading man of the most existential drama on TV, Justin Theroux has a tough job. In Season 2 alone, he yelled at his hallucinations, took a trip to purgatory, and cried many times. It could have easily skewed towards melodrama in a lessor actor's hands, but Theroux grounded it in an earthy and heartbreaking performance.
Penny Dreadful: Eva Green, Billie Piper, Rory Kinnear
As the infinitely complex Vanessa Ives on Showtime's Penny Dreaful, Eva Green has given one of the most fearless, vanity-free performances on TV throughout all three seasons of Penny Dreadful. She has wept, foamed at the mouth, writhed, murdered, and delivered monologue after powerful monologue, and still the Emmys ignore her.
As Frankenstein's monster, Rory Kinnear began the show seeming like a one-note villain, but in its third season, his turn as a kindly orderly gave his character a depth another actor would not have been able to convey. And lastly, as the tormented Lily, formerly known as Brona, Billie Piper spun tragedy and terror out of her powerful monologues.
Game of Thrones: Natalie Dormer
It's odd to call Game of Thrones "ignored", since it garnered more Emmy accolades than any other show last year and is still leading this year's nods. But in the category of acting, the Emmys have always been bizarre in the performances it acknowledges. Emilia Clarke, who plays the one-note Daenerys, has been nominated multiple times — and is again this year — but Michelle Fairely was never recognized for the infinitely more complex Catelyn Stark. Similarly, Natalie Dormer has her last chance for acknowledgement as Margaery Tyrell, a character who could have come across as a femme fatale type. Dormer's performance consistently crackled with intelligence, and ignoring it is a mistake.