Don't Train and Drive: Pokémon GO Player Crashes Into Tree
Another cautionary tale for aspiring trainers out there.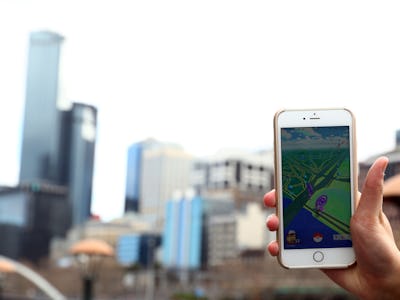 Getty Images / Robert Cianflone
Common sense dictates that drivers should be alert to their surroundings and the road ahead of them at all times. Unfortunately, common sense itself is more of a choice for some than a learned ability, and humans have had to learn things the hard way for centuries. This, perhaps, is why Niantic took the initiative to install a warning on the loading screen for Pokémon GO, telling players to stay alert so that they don't injure themselves or others.
Of course, someone had to break the rules, and this renegade trainer is lucky to be alive. One struggle to Catch 'Em All was put on pause when a 28-year-old man, focused on playing Pokémon GO, slammed hood-first into a tree after driving clear off of an Auburn, NY roadway.
The crash totaled the front of the car, but the driver survived with little harm done. Auburn Police Chief Shawn Butler has not yet released the driver's name, but he says that traffic tickets are "pending", according to local news sources. The police released a few hot tips for trainers following Chief Butler's statements, which include not playing the game while driving a car or riding a bicycle. The police advice players not to travel alone, trespass on private property, and to be careful of who players share their locations with.
After the game's initial release in the United States (following Australia and New Zealand), a surge of news surrounding strange happenings involving the game began to circulate. A teenager found a body in a river while playing, robbers and kidnappers used lures to bait potential victims, and other trainers injured themselves in even more creative ways.
Despite all of the grim news, Pokémon GO has done wonders when it comes to bringing people together, filling parks and popular landmarks across the country with eager trainers.