Check Out the Trailer for Netflix's Low-Budget Thriller 'Rebirth'
The movie is the first low-budget Netflix original fully funded by the streaming service.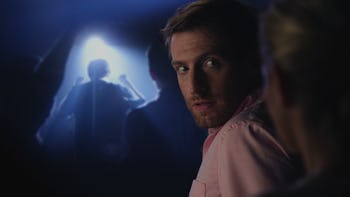 Netflix
Netflix has been known to throw piles of cash at movie properties to debut on its ubiquitous streaming service, but with upcoming thriller Rebirth, it has completed its first low-budget independent original.
Rebirth, starring that-one-stoner-dude-from-Cabin In the Woods Fran Kranz, is a creepy cult thriller that looks to start this low-budget experiment in the right place. Co-starring Adam Goldberg, Kat Foster, Nicky Whelan, Harry Hamlin, Andrew J. West, Sheryl Lee, Pat Healy, Eric Ladin, Luis Geardo Méndez, and Steve Agee, the movie is about a slacker friend (Goldberg) that ropes his white collar buddy (Kranz) into a questionable self-help seminar called "Rebirth."
It's the sophomore film by director Karl Mueller, who previously wrote another low-budget horror movie about a cult called The Devils Hand, and directed Mr. Jones, a horror movie about a couple haunted by strange events while making a documentary in the woods. So the dude knows cults and horror.
It's kind of like a mix between yoga, Scientology, and a haunted house that was shot entirely in some abandoned commercial space. There's plenty of shadows, plenty of faux self-help jargon, and plenty of scares. Check out the trailer:
In case you weren't sold already, here's the perfectly creepy official synopsis:
Get up. Go to work. Come home, dinner, bed, do it all again. That's life, every day, every year, until you die — unless you've got what it takes to be reborn. Rebirth gives a new lease on life, but only if you're willing to pay the price.
As far as original programming is concerned, Netflix has previously busied itself with a slew of critically lauded series like House of Cards and Orange is the New Black, a solid slate of feature documentaries like The Square and Making a Murderer, and medium-budget awards bait feature films like Beasts of No Nation. When some numbers were crunched that said viewers wanted small indie fare, Netflix simply cherry-picked and acquire the best Sundance-like festival films like the recent buddy drama The Fundamentals of Caring, sex comedy Brahman Naman, and horror flick Hush. Rebirth is different.
Netflix acquired the rights to the film in late 2015 and produced the entire thing for a relatively small $2 million budget. That kind of model is great for companies like Blumhouse Productions, which produces movies for a pittance to reap the rewards of first weekend box office bank.
Netflix's unlimited coffers basically mean it can do whatever it wants and it seems to be a quantity-based model set on producing endless mini-budget movies with low overhead. We're into it.
Rebirth hits Netflix on July 15