Netflix Has Bought These 5 Diverse Films at Sundance So Far
The streaming service bought up all the most buzzed-about movies at this year's Sundance Film Festival.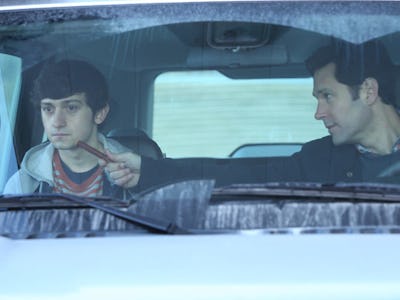 http://www.sundance.org/
Netflix has proved a formidable force at Sundance this year, buying up five films at the Park City, Utah film festival.
It serves as good news for so-called smaller movies and weird indies, as Netflix doesn't generally care about theatrical releases, save for the ones that might have some awards potential. Low-budget films are having a tougher time selling tickets at movie theaters these days. Of the films sold at Sundance in 2015, only a few took in more than $1 million at the domestic box office.
"We're in the market for enjoyable films that have a great creative vision and that we can show to our members in 190 countries," Netflix's chief communications officer Jonathan Friedland said during an interview this week.
Here's what Netflix has bought up so far.
Brahman Naman
Brahman Naman is a coming-of-age Indian sex comedy centered on a kid named Naman and the members of a college quiz team in the 1980s. Each member's goal is not only to win the competition, but also to lose his virginity in the process. It sounds like Indian American Pie, and should fit in nicely with Netflix's brand of comedies.
Tallulah
Written and directed by Sian Heder, a writer and producer on Netflix's Orange Is the new Black, Tallulah stars Ellen Page as a young homeless women who abducts a child and then takes it to her ex's mother, played by her Juno co-star Allison Janney, who mistakenly thinks the child is her granddaughter.
The Fundamentals of Caring
Based on the 2012 novel by Jonathan Evison, Netflix bought this movie for $7 million. The Fundamentals of Caring stars Paul Rudd as a man who becomes a caregiver after suffering a personal tragedy. He goes on a road trip and gets into all sorts of adventures with his first client, an 18-year-old boy with muscular dystrophy (Craig Roberts), and the two become friends. Selena Gomez also stars in the movie, which as written and directed by The Late Show With David Letterman alum Rob Burnett.
Under the Shadow
This Iranian horror movie is also new territory for Netflix, which thinks it has enough scares to make it a hit similar to The Babadook. Set in the midst of the Iran-Iraq War in the late '80s, Under the Shadow is about a mother and daughter who think their home is haunted by djinn, demon-like evil spirits from Arabian folklore that they believe are after their most prized possessions. Sounds spooky, and the perfect movie to stream on a dark and stormy night.
Audrie & Daisy
Netflix has always been big on documentaries, and coming off the cultural phenomenon it created with Making a Murderer, expect a lot more to come. At Sundance, it picked up Audrie & Daisy, a doc directed by Bonni Cohen and Jon Shenk that captures the legal fallout of two teenage girls who attempt suicide after being bullied and harassed when local boys sexually assault them.