Disney Teases 'Star Wars' Experience With Official Concept Art
The new theme park is currently under construction in Disney's Florida and California locations.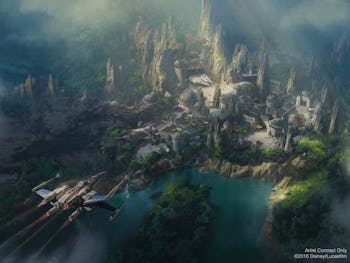 Disney
Going to the galaxy far, far away is getting closer to being a reality.
Disney has teased out images and peeks into what they have planned for their brand new theme park based on Star Wars in the past, and most of the early concept art around the time the project was announced was more work-in-progress wishful thinking into what the new park would feel like. But now the official Disney Parks Blog just posted the best view so far about what the new 14-acre park will really look like.
Per the Disney Parks Blog:
Nestled between towering spires of rock, this thriving port contains a seemingly familiar architecture of markets, landing zones and buildings. Look closely and you may find hints of some of the thrilling experiences that are coming – like the Millennium Falcon peeking out of one of the cargo bays, marking the location where guests will get the opportunity to pilot the fastest hunk of junk in the galaxy.
Take a look at the final concept art:
The image seems to be a spruced-up version of the view of the park — which is rumored to be called the Star Wars Experience — previously created by Disney Imagineer Greg Pro, that surfaced in April. The blog points out that a version of the image is hanging up in front of where the actual park will go in Disneyland, so it's probably the most final version of the layout we'll see until we see the real thing.
Front and center is the Millennium Falcon ride that the blog mentions, and there's the same market area just below is that will inevitably be filled with killer branded Star Wars merchandise whose sole purpose is to empty your bank account even further. Toward the top right of the concept art are some interesting, potentially new details. The Return of the Jedi era Imperial shuttle might hint that we'll see some classic trilogy-focused rides as well as an immersive experience from the brand new post-Force Awakens saga.
Also worth mentioning is the curious inclusion of an X-Wing in the concept art. Is that just an innocent artistic flourish or will the geniuses at Disney have mini X-Wing drones flying around to make it seem like the Rebel Alliance is patrolling the area?
We'll have to wait until at least a few more years as the theme park is currently under construction, while the next Star Wars movie, Rogue One, hits theaters on December 16, 2016.