Disney's Millennium Falcon 'Star Wars' Ride Sounds Legit
More details have emerged about the main ride at the new 'Star Wars' theme park.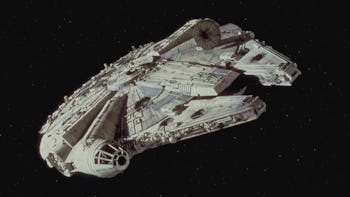 StarWars.com
Earlier today new concept art from Disney's Star Wars Experience hit the internet following a big presentation from the house of mouse, "Awaken Summer." Disney unveiled looks at other big plans like Avatar Land, and as for Star Wars, we got a good look at how the big new park extension, currently under construction, will look. Today we spotted a new clip that reveals some better details about the park's Millennium Falcon ride.
We already knew the Star Wars Experience will primarily consist of two main rides, the first being an interactive ride of some kind that put riders in the middle of the battle between the Resistance and the First Order, and the second mimicking the piloting of Han Solo's iconic ship, the Millennium Falcon.
Disney Imagineer Scott Trowbridge presented the Star Wars portion of the Awaken Summer presentation, and gave the following introduction about the Falcon ride:
"Step aboard that iconic spaceship, the Millennium Falcon and take the controls yourself. You're actually going to pilot this thing. You're going to be the one in complete control, steering it through outer space, firing those lasers cannons, it's all up to you so please be gentle with her — she's an older ship."
Check out the video of Trowbridge taken by Disney theme parks fansite InsideTheMagic:
This sounds like a Star Wars fan's dream, but how plausible will this be for a theme park audience? Piloting the Millennium Falcon is cool and all, but how are they going to be able to give riders a satisfying adventure while also keeping the experience rolling for others to get a chance? The video doesn't reveal specifics, but we're thinking they'll do it like the old Back to the Future ride and have multiple Falcon cockpits the way they once had multiple Deloreans. Disney has been at this for a very long time, so we won't doubt their design.
Other news Trowbridge revealed described the cantina and the restaurant, which are reportedly the centerpieces of the whole Star Wars land experience.
In the cantina, visitors will be able to "sample the daily specials, interact with the locals, and hear the latest rumors from the far reaches of the galaxy." The upscale restaurant — or dinner club — is "the finest place on the planet to relax, indulge, and it's unlike anyplace we've ever seen before." You'll be able to "dine on local delicacies, and immerse yourself in the unique culture and cool customs of the outer rim," while you'll also be able to "listen to the exotic sounds of the planet's best entertainers."
It sounds like an actual experience in every sense of the word, and actually flying the Millennium Falcon will be quite a trip.