Disney Reveals New 'Star Wars' Land Concept Art
They gave a sneak peek at the new park on their 'The Wonderful World of Disney: Disneyland 60' TV special last night.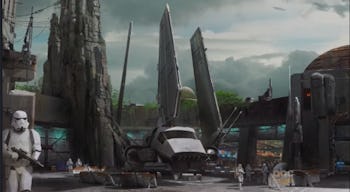 YouTube
As reported last month, Disney pulled out all the stops for their Disneyland 60 diamond celebration special on ABC last night. The TV event, fully titled The Wonderful World of Disney: Disneyland 60 featured a bunch of live performances like that one singer that your mom loves but forgot her name (Tori Kelly), a Mary Poppins tribute by Derek Hough (because, I guess, why not?), and Elton John singing "Circle of Life" since what else is Elton John going to sing at a Disney-themed show? But it also featured a nice little sneak peek for Star Wars fans.
Six months after Disney chairman Bob Iger announced the plans at Disney's D23 Expo in August 2015, we got our first semi-legitimate preview of the new Star Wars Land theme park in a presentation by Han Solo himself, Harrison Ford. He began by saying, "Star Wars is, for lack of a better word … awesome," and he's totally right. The theme park looks like it won't be any different.
We still don't know exactly when it'll open, and we don't really know that much about how the new rides will be situated throughout the new 14 acre park, but they did show off some more concept art to give fans a better sense of what the new park will look and feel like.
Some of the art that was showcased was left over from the D23 announcement, but new looks at things like a Millennium Falcon ride, an interactive experience of a Resistance battle against the First Order, a street market, a cantina, a restaurant, and many more authentic locales should be enough to be able to whet the appetites of Star Wars fans. It's like a theme park amuse-bouche that doesn't disappoint.
It actually looks like some of what will be included are leftover concept art from The Force Awakens. The bar with the floating mermaid-looking creature and more can be found in author Phil Szostak's gorgeous The Art of The Force Awakens book that was released last December with the release of the movie.
You can watch the full special on ABC's official site. Though we have no idea just yet when Star Wars Land will open, Rogue One drops in theaters on December 16, 2016, and Episode VIII is currently in production and scheduled to be released on December 15, 2017.