Apple Responds to Spotify's Accusations of Causing "Great Harm"
If Lin-Manuel Miranda were to write a rap battle about the tech world, this would be the subject.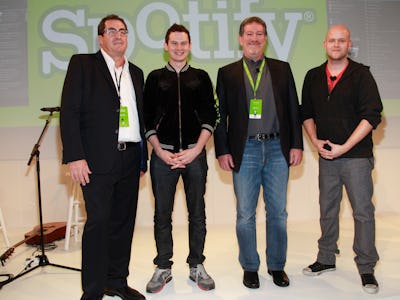 Getty Images / Charles Eshelman
Earlier this week, reports began to surface involving an e-mail sent to Apple from Spotify's General Counsel, Horacio Gutierrez, who alleged that Apple Music was trying to cause harm to its streaming service by blocking the latest update from the App Store and imposing taxes on apps in order to "harm" competitors. Later in the day, reports began to surface that painted a picture of an aggressive Apple Music attempting to court Jay-Z's TIDAL in order to remove the streaming service from the competitive market as well as close the gap between it and Spotify.
Today, Apple Music released a statement in response to the accusations, stating that not only is it not unfair to Spotify, but that Spotify is asking for special treatment. "Our guidelines apply equally to all app developers," read the rebuttal by Apple's General Counsel Bruce Sewell. "[W]hether they are game developers, e-book sellers, video-streaming services or digital music distributors; and regardless of whether or not they compete against Apple."
The response, first reported by Buzzfeed, includes all the wording of a great pre-duel movie monologue. It also drives home a few good points. According to Sewell, Apple Music found it "troubling" that Spotify would resort to "rumors and half-truths" about their App Store rules in what Sewell said was a thinly veiled effort to become exempt from them. Sewell ended the letter backing up the company's confidence in its user base, in response to Spotify's claims of Apple's fear of competition.
Not long after, though, Spotify's Jonathan Prince shared this piece of information in response:
Apple stands firm against Spotify's claims — if Sewell's three-page rebuttal hasn't already spelled that out enough — but no legal action or further response has been made on either side.