What to Watch for in 'Killjoys' Season 2
Season 2 of 'Killjoys' starts tonight on Syfy. Catch up on where we've been and where we're going next.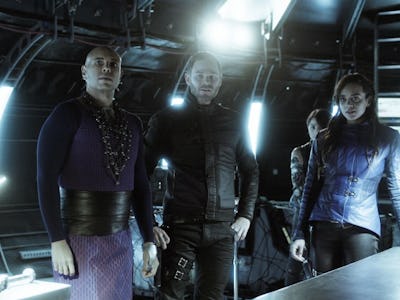 Syfy
Everyone's favorite interplanetary bounty hunters return tonight with the Season 2 premiere of Killjoys at 9/8c on Syfy. Quick, clever, and deeply fun, Killjoys is the cure for what ails you – if what ails you is "peak" TV's tendency to be gloomy, preachy, and a tad too self-serious. Killjoys is one of the best jovial and fast-paced thrill rides on TV.
The first season of Killjoys followed Dutch (Hannah John-Kamen) and brothers Johnny (Aaron Ashmore) and D'avin Jaqobis (Luke Macfarlane) as they navigated the choppy waters of neutrality, conflict in the Quad, and increasingly complicated team dynamics. Compelling characters, a big and diverse world, and baddies that took a number of shapes and forms made tuning into each episode a guaranteed good time.
It's not all "let the good times roll" in the Quad, though — the end of Season 1 brought some serious shit hitting the fan.
When we last saw them, Dutch and Johnny were narrowly escaping a devastating attack on Old Town with Pree (Thom Allison), but found themselves a team member down; Alvis (Morgan Kelly), Pawter Simms (Sarah Power), and the rebels were hiding out in the tunnels, hopefully surviving the attack in their own way; and D'avin was in the clutches of Khlyen (Rob Stewart) at the oft-discussed, rarely-seen Red 17 on Arkyn, and his battered team had no idea where or how to find him.
The Season 1 finale blew the world of Killjoys wide open, and naturally, we still have a lot of questions: What the hell is going on at Red 17 and what are they going to do to D'avin? What's the deal with Level 6? What's Khlyen's involvement in whatever green goopy sinister shit is going down with the RAC? What's going to happen to the Quad in the wake of Delle Seyah's (Mayko Nguyen) coup on Qresh?
Season 2 is poised bring us more of the quick-witted, ballsy and gleeful sci-fi adventure that we fell in love with last summer with some exciting new additions. All signs point to a lot of exciting opportunity for exploring new places, meeting new characters, and solving bigger, weirder problems. We're also going to see the dynamics between our favorite bounty hunters shifting and developing as their world and their team changes.
On a recent press call, the cast spoke about those shifting dynamics. Touching on Dutch's relationship with Johnny, Hannah John-Kamen hinted at some tension arising from Dutch's desire to protect Johnny and Johnny's occasional need go it alone. "There are reasons why Johnny will go and do certain things and not tell her and there's going to be a lot of risk and definitely complications between them," said John-Kamen.
"I think that [Dutch and D'avin] will always have sexual tension and there's something kind of hot about them, but I there's also something in some of the things that I saw where there's a real bond and a real friendship that's formed," said Aaron Ashmore. "Obviously they just met in the first season so that wasn't there, so to me it's sort of interesting to see those dynamics play out where these two characters actually get to know each other, actually get to spend time together."
"I think Davin's relationship to both [Dutch and Johnny] is defined by this acceptance that you can't control people," said Luke Macfarlane. He talks about how up until he met Johnny and Dutch, he was accustomed to controlling those around him by using either violence or sex. "This year, he's with people that he can't control and it opens him and softens him in a very deep way."
Never a show to sit still for too terribly long, the second season of Killjoys is likely going to challenge what we think we know about our favorite characters, the expanding world they inhabit, and the world we return to when the credits start rolling. There's more danger, more conflict, and more delicious genre goodness heading our way with the Season 2 premiere tonight, and we can't wait to see where Killjoys takes us next.