14 Underrated Sci-Fi Shows You Need to Binge- Watch Before They Return
'Powers', 'Deadbeat', 'Z Nation' and 'The Librarians' all deserve a second chance.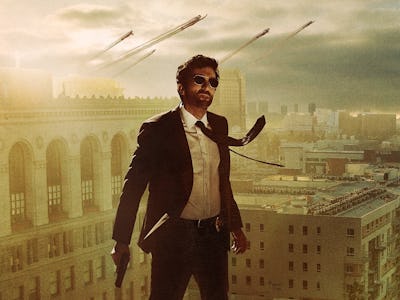 You can't love science fiction without a high tolerance for camp. It also helps to appreciate well-crafted gore, have a twisted sense of humor, and a willingness to endure a show's low points to appreciate the larger conceit. Plenty of imperfect science fiction shows have flown under the radar: Fringe was under-watched during its time, and most of the programming run by Syfy appeared and disappeared if it didn't bring in Battlestar Galactica numbers.
We've compiled a list of underrated science fiction TV returning for a second chance in 2016. Some shows have only enjoyed one season, while others have made it a little further. But they're all very worthy of more attention heading into their new seasons. Strap in and get ready for zombie babies, y'all.
12 Monkeys
Network: Syfy
Status: Season 2 premieres April 18
Inverse will be following 12 Monkeys, despite its lukewarm ratings, because the show has actually figured out how to explore and expand Terry Gilliam's film into a longer series. Adapting the dark sci-fi mystery into a TV format could have failed, but 12 Monkeys is an engaging look at virology and time travel.
Deadbeat
Network: Hulu
Status: Season 3 premieres after a long hiatus on April 20
Deadbeat is pure fun, and it bounds past the limits of decency on TV with a goofy grin. Stoner and ghost medium Kevin Pacalioglu communicates with the dead for cash, which he quickly spends on recreational drugs and weird outings with buddies. The ghosts are Ghostbusters-y silly — Kevin even picks up a weird puppet ghost friend who looks like a tiny companion of Slimer's — and every episode is packed with uncomfortable hijinks. Anybody who's ever loved a Seth Rogen movie should be catching up on Deadbeat before it returns on the holiest of days.
Killjoys
Network: Canada's Space, Syfy
Status: Season 2 imminent
Killjoys is stunningly well produced, especially for a show that almost no one has actually seen. Its team of bounty hunters are smart, sexy and skilled at combat, and watching them banter their way through intergalactic punch-ups is a lot of fun. It did so well on the Canadian channel Space that Syfy got involved and brought it to America. Its second season, a team effort from the two networks, will likely be more focused and grander in scope.
The Librarians
Network: TNT
Status: Recently renewed for Season 3
Whoo boy, is it ever hard to pull off a legitimately funny sci-fi show. If your characters don't sound like they were penned by Joss Whedon himself, they're likely to ring false. The Librarians has suffered from some lame marketing (see the first half of the above trailer), but when this show really gets going, it's hard not to smile. It's certainly been the most effective pratfall fantasy on television, probably ever, and it'll be back soon.
Dark Matter
Network: Syfy
Status: Renewed for a second season
Dark Matter's conceit seemed unique and well-contained when it premiered last year: six strangers wake up in a spacecraft with no memory of who they are — or how they got there. Unlike some Syfy shows, the drama actually honored its clean, simply written pilot by unfolding its secret slowly, and with purpose. The finale ended on a cliffhanger, and we're actually intrigued to see where this thing is headed.
Zoo
Network: CBS
Status: Second season to premiere June 28
Based on a James Patterson novel, Zoo tells the story of an animal takeover which signifies the apocalypse. An American scientist, a Kenyan safari guide, a reporter, and a French spy attempt to figure out why animals are suddenly attacking humans all over the planet. Zoo's central draws — mutant animal attacks and a rare global scope — make it an exciting drama. While the characterization of the show's leads could still use some work, the show is just such a large-scale spectacle that it's hard to look away.
Powers
Network: Playstation
Status: Season 2 to premiere May 31
The only reason Powers isn't the talk of contemporary sci-fi television is its presence on the Playstation Network, which severely limits its audience. Other than streaming on a gaming console, it feels ripe for widespread success: Powers is a comic book adaptation and it stars Eddie Izzard and Sharlto Copley (District 9 and Elysium*). The story is tight, the acting is great, and it really deserves viewers reaching across the network divide.
Humans
Network: Channel 4, AMC
Status: Second series imminent, dates unknown
Pardon Inverse's preoccupation with cyborg theory and artificial intelligence; AMC's Humans is the sleek, serious film I, Robot once experimented with being. Though it's a soft-to-medium sci-fi series, it really manages to build some believable technology. It's also the most heartbreaking show on our list.
Z Nation
Network: Syfy
Status: Third season imminent, dates unknown
It may not have the funding to make itself look as good as The Walking Dead, but damn it, Z Nation has a sense of humor. That's what saves it from being just another zombie knock-off show; it has zombie babies and George R. R. Martin playing a zombified George R. R. Martin! It's not especially scary, but it's dumb and fun the way zombie media should be.