The Big-Ass Guide to The Best Fictional Women On Television
There's a lot of television to choose from, but if you like your TV with a healthy dose of badass women, we've got just the shows for you.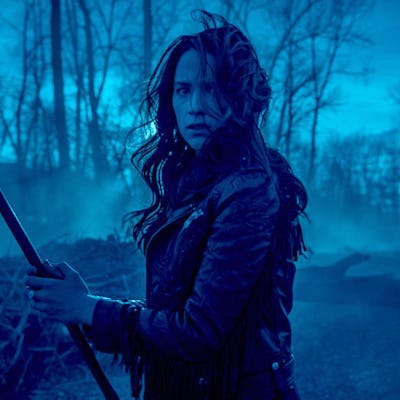 Syfy
It's almost summer, and we all know that means, right?
Time to close the shades, crank up the AC and adhere yourself to your couch, popsicle in hand, to catch up on a whole lot of TV. Fresh off the controversy surrounding CBS's decision to pass on a Nancy Drew adaptation (reportedly because it was "too female"), we decided to round up some of the best #toofemale shows that TV has to offer. Last week we did a smaller list of 10 shows that prove that #toofemale is a strength, but that was just the beginning. We got so many great suggestions that we decided to expand our list and share more of our favorite shows with standout female characters. Welcome to the big leagues.
Though it's by no means an exhaustive list, here are even more shows you might want to start watching (or catch up) on if you like your TV with plenty of complicated female characters.
Science Fiction/Fantasy/Genre, Currently Running:
Wynonna Earp
A modern supernatural western following Wyatt Earp's great-great granddaughter on her quest to reverse the Earp curse with the help of Wyatt's demon-killing gun, Wynonna Earp is unapologetically female and refuses to compromise the stories of its women for the sake of men, onscreen or in the audience. It's one of the bravest, most refreshing, and fun shows on TV, which is exactly why we love it.
Orphan Black
When she learns she's a clone, Sarah Manning and her sestras attempt to unravel the mysteries behind their makers, their purpose, and the many dangers that threaten their lives. There's no shortage of female heroes in Orphan Black, though many of them share the same face.
Jessica Jones
A reluctant hero if ever there was one, Jessica Jones uses her super strength to save herself, her loved ones, and the city she calls home from a completely bananas mind-controlling baddie called Kilgrave — was Murdercorpse already taken?
Killjoys
Following a team of interplanetary bounty hunters in a system under the constant threat of a class war, Killjoys features one of the female characters on TV in Dutch — the team's witty, whip-smart and extremely lethal leader.
iZombie
Life's not easy, but it turns out the alternative might not be any easier. Trying to muddle through the challenges of daily (un)living, it just might be up to Liv Moore to save Seattle/the world from zombies one brain entree at a time. Bonus points? Liv has a platonic ally in Ravi, and solves problems with her best friend Peyton, who's an Assistant District Attorney.
Supergirl
There aren't too many female superheroes on TV, and there are even fewer female superheroes who are kid-friendly. Supergirl is one of the few, though, and she's a true delight to watch.
The 100
Tracking 100 juvenile delinquents sent to the ground to determine its viability, The 100 follows Clarke Griffin and the rest of her people as they try to survive. Despite a third season rife with controversy, The 100 still has several standout female heroes, and they're a big part of what makes the show so dynamic.
Sense8
Sense8 doesn't just give us outstanding female representation, but outstanding queer representation as well with Nomi Marks, a trans woman, and her girlfriend, Amanita. The series won a GLAAD Award for Outstanding Drama last year.
The X-Files
You can never have too much Gillian Anderson. Returning after more than a decade off the air, *The X-Files is back, reminding us that the truth is out there – and that Gillian Anderson and Dana Scully are gifts to this world, the likes of which we don't deserve.
Comedy, Currently Running:
Orange is the New Black
One of Netflix's greatest original series, Orange is the New Black is radically feminist, diverse, and gives us stories and characters that we've never encountered before on television. It shows us that female character should be as varied and complex as the world around us, and challenges the notion that there's only room for so many women in a television show.
Crazy Ex-Girlfriend
After moving to West Covina (but not for her ex-boyfriend, Josh), Rebecca Bunch finds herself on a journey of self-discovery that's as funny as it is illuminating while she searches for happiness in her new home.
Jane the Virgin
With a diverse cast, female-driven plot lines and a fresh take on telenovelas like the one that inspired it, Jane the Virgin is one of The CW's best-loved shows and gives us an outstanding protagonist in Gina Rodriguez's Jane Villanueva.
Inside Amy Schumer
Now in its fourth season, 'Inside Amy Schumer has had incredible standout sketches – like "12 Angry Men Inside Amy Schumer" and "Last Fuckable Day" – and it has incisive commentary on sexism in nearly every episode.
Broad City
Nobody does bold, feminist comedy quite like Abbi Jacobson and Ilana Glazer. Unflinching, dynamic and totally unlike anything else on TV, Broad City's not something you want to miss out on — FOMO's a bitch.
Grace & Frankie
It's hard to enough to find strong, central, compelling female characters on television. Female characters over 40? Nearly impossible. But Netflix's Grace & Frankie brings some fresh perspective to female characters and proves that women might get even funnier post-menopause.
Lady Dynamite
Brand new on Netflix, Maria Bamford's series is already garnering praise for its fearless combination of comedy styles, difficult topics, and acute self-awareness.
The Unbreakable Kimmy Schmidt
Yet another Netflix series, Kimmy Schmidt finds its title character adjusting to life in the real world after years spent captive underground. The theme song says it all: "Females are strong as hell."
Drama, Currently Running:
Person of Interest
Like vigilante crime-fighting teams? Looking for more strong women and queer representation? You should probably give Person of Interest a shot, then. Its in its final season right now, but its doing some of the finest work in LGBT representation on network television, so get to catching up.
Wentworth
Though there's a certain temptation to call Wentworth the Australian Orange Is The New Black, it's more-or-less a revival of Australian prison drama Prisoner from the late 70s-mid-80s. Like OITNB, though, its got a lot of complex female characters who challenge and broaden the narrow field of women on television.
Happy Valley
This British series follows Catherine Cawood, a police sergeant in Yorkshire, as she finds herself pulled into an unraveling plot that hits surprisingly close to home.
The Fall
Centered around a serial killer and the detective tasked with finding and stopping him, The Fall has Gillian Anderson in top take-no-shit form as Stella Gibson. There's also a downright staggering number of incredible silk blouses.
Call the Midwife
Another British series, Call the Midwife revolves around the lives of you guessed it — midcentury midwifery. With a cast full of women and plots that are female-driven, Call the Midwife tackles difficult issues with boldness and elegance.
Scandal
A Shonda Rimes production, Scandal has a diverse cast full of strong women, led by Kerry Washington's Olivia Pope. Scandals not always perfect, but it does prove that women on television can be the driving force behind major network affairs.
How to Get Away With Murder
Another Shonda Rimes production, How to Get Away With Murder stars Viola Davis as the powerful and uncompromising Annalise Keating. Daviss performance (which won her a Golden Globe and a handful of other awards) is outstanding, and the series itself has won awards from GLAAD and the American Film Institute.
UnREAL
A riveting examination of morality, sexism, and manipulation through the lens of a fictional The Bachelor-esque reality show, UnReal is smart, darkly comedic and revolves around female ambition in a male-dominated industry.
Science Fiction/Fantasy/Genre You Should Catch Up On:
Agent Carter
Though freshly cancelled after a two-season stint on ABC, Agent Carter taught us to know our value and that even when faced with systems that seek to limit and silence us, there's power in outsmarting those who dare to underestimate you. Thanks, Peggy.
Buffy the Vampire Slayer
One of the cornerstones of the women kicking ass on TV genre (and yes, it should totally be its own genre), Buffy is still one of the most important works in contemporary genre television simply because it laid the groundwork for so many heroes who followed in Buffy Summers's footsteps.
Xena: Warrior Princess
Xena did a lot of things well but the thing she did best was kicking ass with her friend" Gabrielle. There's been some recent controversy about the reasons why the relationship between Xena and Gabrielle was left unexplored, but a new series in the works from Javier Grillo-Marxuach gives us hope that it wont remain unexplored for much longer.
Veronica Mars
Theres always room for more snarky badass women in our lives, and Veronica Mars was one of the best. Fueled by cleverness, fearlessness, and sarcasm, Mars dug her way to the bottom of every mystery that presented itself – and was never short on quips. Underneath the wit, though, there was blistering social commentary that remains a deeply important aspect of the show's legacy.
Lost Girl
Likely the only show with a bisexual succubus hero, Lost Girl is something of a masterclass in good-time genre storytelling. Capable of being as poignant as it was campy, Lost Girl is definitely one to delve into if you missed it while it was on the air.
The Legend of Korra
The follow-up series to Avatar: The Last Airbender revolved around Korra as she mastered the art of airbending and did battle with all manners of threats in Republic City and beyond. Korra is notable not only for its excellent portrayal of a strong female main character, but also its groundbreaking queer representation.
Star Trek Voyager
Voyager gave us a great many gifts, but perhaps the most significant was Captain Janeway, who was unwavering in her confidence, fairness and commitment to keeping her crew safe as they made their way home.
Nikita
Spy. Assassin. Dead Woman. Nikita's contains multitudes, but her mission is pretty simple: revenge. Highly trained and extremely deadly, Nikita's not someone you want to find yourself going head-to-head with — our bet's on her every time.
Fringe
Olivia Dunham is special, even without the abilities she got, thanks to some seriously messed up experiments she underwent as a kid. A part of the FBI's Fringe Division, Dunham works with Peter Bishop and his father Walter to solve cases that are unusual, mysterious, and downright bizarre.
Battlestar Galactica
Battlestar Galactica gave us some of the most incredible female characters in recent memory with Kara Thrace (a.k.a. "Starbuck"), President Laura Roslin, Number Six and Sharon Valerii ("Boomer").
Alias
Reconciling a demanding job with a rich personal life is always a tall order, and nobody knows it better than Sydney Bristow. An undercover agent tasked with taking on sensitive missions that require her to assume different identities, Sydney is a highly skilled operative whose biggest challenge is lying to those close to her.
Comedy You Should Catch Up On:
Parks and Recreation
Leslie Knope taught us what it means to work hard, have a dream, and stand up for what you believe is right. Parks was deeply funny, but it also gave us one of the finest examples of a strong, smart, ambitious woman whom we wanted to root for over and over again.
30 Rock
Though she was too frequently the punchline of the jokes of…well, pretty much everyone, Liz Lemon found her way into our hearts with her endless "blergs," surprising wisdom, and her ability to let us laugh at the things about ourselves that make us uncomfortable. Even after the show's final season, she stayed with us more thoroughly than the lasting gastrointestinal aftermath of Meat Cats Cheesy Blasters. Razzmatazz!
Weeds
Before Jenji Kohan created Orange is the New Black, she was the mastermind behind Weeds — a dark comedy that followed widow/suburban pot dealer Nancy Botwin as she does whatever it takes to provide for her family. Nancy proved once again that women should never have to squeeze into small, cooperative, and neatly-packaged boxes to be protagonists.
Gilmore Girls
Poised to return for a four-part Netflix original series, Gilmore Girls is an enduring piece of our pop-culture paradigm. With its rapid-fire dialogue, devastating wit, and fresh take on mother-daughter relationships, it was a delight that had us wishing that places like Stars Hollow were real. It also showed us that the true OTP of Gilmore Girls is Rory/Paris. Sorry, Jess.
Drama You Should Catch Up On:
Ally McBeal
Recalling the story of Ally, an attorney who balances her personal life and career to varying degrees of success, Ally McBeal's focus on Ally's thoughts and the details of her life is what makes the series important. Though somewhat imperfect in its portrayal of the main character, Ally McBeal was undeniably female-driven and a key part of the legacy of feminist television.
Damages
Another show about high-powered female lawyers, Damages follows the ruthless and brilliant Patty Hewes and her protégpé Ellen Parsons as they take on cases, evade murder charges, and do whatever (seriously, whatever) it takes to come out on top.
The Good Wife
The Good Wife, which just wrapped its last season, gave us seven seasons that revolved around Alicia Florrick, a woman who returns to work in litigation following her husband's incarceration to provide for and take care of her family.