Report: Average VW Owner Could Get $5,000 in $10.2 Billion Emissions Settlement 
The money will be split among the government and car owners.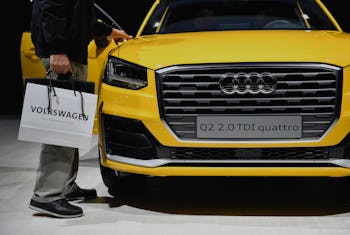 Getty Images / Alexander Koerner
Volkswagen could be paying the U.S. government and its consumers $10.2 billion in a settlement fees for the automaker's emissions scandal, which saw the German company purposely making software that would allow its cars to cheat on emissions tests.
According to the Associated Press via an anonymous source who is under a gag order from the federal court, the $10.2 billion will be distributed to the 482,000 owners of cars with two-liter diesel engines as well as to the government in penalties.
The source says payments will range from $1,000 to $7,000 depending on the age of the owner's vehicle. The average payment, the source says, would be $5,000 to each owner.
In April, the company agreed to fix or buy back the deceptive vehicles but a definitive number wasn't put on the settlement until now. The official announcement is expected to come on Tuesday, but the figures are subject to change before then.
The figure is in line with the amount analysts expected Volkswagen to pay. Kelley Blue Book estimated that a buyback of all the vehicles would cost the company $7 billion. On the regulatory side, the company could have faced a maximum penalty of $18 billion, although many were skeptical it would go that high.
If those estimates are true, Volkswagen would be paying the government $3 billion in fines and consumers $7 billion in compensation.
Still, this settlement, if it stands, would greatly exceed the previous largest fine levied on an automaker for greenhouse emissions. Before this, the largest comparable fine was against Hyundai-Kia group in 2014 for a comparatively cool $100 million.
The silver lining of this whole scandal is that Volkswagen is now looking to invest heavily in the electric car market.