The VW Emissions Scandal Finally Has a Silver Lining
The company will introduce 30 electric vehicles by 2025.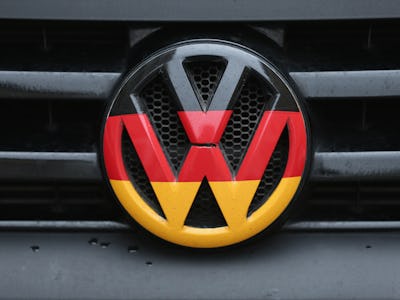 Getty Images / Sean Gallup
In light of Volkswagen's emissions scandal last year, in which the company was exposed for making cars that purposely cheated pollution tests, VW chief Matthias Mueller has introduced a plan that seeks to have 30 electric-powered vehicles developed by 2025, with improved in-house batteries, and ride-sharing capabilities.
Mueller dubbed the plan "Together — Strategy 2025" and outlined an ambitious program that hopes to flourish to annual sales of two to three million units sold annually, which would account of 20 to 25 percent of the company's overall sales volume and potentially a quarter of the global passenger car market.
"The Volkswagen of the future will inspire its customers with fascinating vehicles, financial services tailored to demand, and smart mobility solutions. We will be a technology leader and role model when it comes to environment, safety and integrity," Muller said. "In short, Volkswagen will be an enterprise we can all be proud of."
The Volkswagen brand has fallen low from its once high standards on the environment. The 1999 Volkswagen diesel engine Jetta was an impressive money-saving, fuel-efficient machine. It got a whopping 44 miles per gallon on the highway around a time when Hummers had taken over the roads.
Mueller seems willing to pretty directly take on other electric vehicle manufacturers such as Tesla in order to return the company to its former environmentally conscious status.
However, details on the company's "in-house" battery operation plans are still shaky. Rumors swirled earlier this year that the company would build in Europe somewhere a facility like the Tesla Gigafactory to make its batteries and develop improvements to increase their range. Muller didn't go that far in his announcement, signaling the company may seek to buy its batteries from other manufacturers.
Muller also intends to move the company into "mobility services," which includes ride-sharing and mobile delivery. Volkswagen already entered into a partnership with on-demand mobility company Gett last month. Muller says the company will start with ride-hailing as its nucleus and expand to robo taxis, car-sharing, and transport on-demand.
The silver lining of Volkswagen's emissions scandal may be that it's just the kick it needed to jump into fully electric vehicles and be a true competitor to Tesla.
Read the full VW announcement.