Volkswagen Agrees to "Substantial" Customer Compensation After Diesel Emissions Fraud
It's rumored consumers will get back $5,000 in buybacks.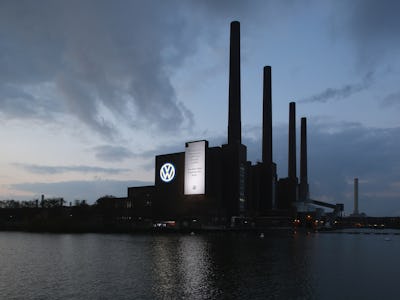 Sean Gallup/Getty Images
Volkswagen has come to an agreement with the U.S. Justice Department after the agency sued the automaker for violating U.S. environmental laws when they admitted to tampering with emissions testing equipment.
U.S. Judge Charles Breyer agreed to the terms of the settlement, which will affect some 600,000 U.S. vehicles that are currently over-polluting. The settlement, tentatively agreed to upon the approval of regulators, includes a fix or buyback program for nearly 500,000 2.0-liter diesel vehicles.
Reuters also reports an environmental remediation fund will be set up to reverse the decade-long effects of its deceptive practices, which included software that could trick emissions testers into thinking the cars were more environmentally friendly than they actually were by up to 40 percent.
The question remains, how much will consumers actually receive for a buyback? When asked this question directly during the hearing, The AP reports Justice Breyer only vaguely said "substantial compensation."
German newspaper Die Welt earlier this week reported the deal was already hammered out and would include $5,000 to consumers to buy back defective cars, which would likely strike many consumers as low.
Used Jettas off CarMax.com run north of $10,000 for most models stretching back to 2012, but of course that's dependant on mileage and other factors.
This U.S. case could affect what happens when the automaker goes to trial in Europe over the scandal.