Volkswagen to Reimburse Motorists Affected by Emissions Scandal 
People who bought Volkswagens rigged with faulty software that cheated on emissions tests might get a paltry payback from the automaker. 
by Sam Blum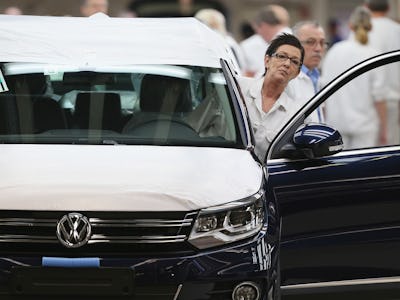 Getty Images
Volkswagen is expected to make an announcement today where it will announce paybacks to many owners of the 800,000 vehicles affected in the emissions scandal, which saw software in different Passat, Golf, Beetle, and Jetta vehicles rigged to cheat on emissions tests.
As per the website The Truth About Cars, car owners may receive a pre-paid card worth $500 to $750 to spend at a Volkswagen dealership, as per the manufacturer's Goodwill Package, which forces binding arbitration.
Today, Volkswagen's supervisory board will also meet to discuss the company's investigation into who exactly is responsible for the faulty emissions software.
Forced into retreat, Volkswagen has been weathering the fray with a pretty dim PR offensive:
Volkswagen's offer of a small monetary kickback for owners is a paltry bit of saving face amid a torrent of controversy and public backlash. On November 5th, the automaker admitted that "the CO2 values and therefore the fuel consumption data published by Volkswagen for some models are incorrectly stated," and that it was "currently reviewing which models are specifically affected."
The next day, November 4th, Volkswagen issued a recall of another 91,800 vehicles made in the 2015-2016 calendar year, citing safety concerns.