What 'Peaky Blinders' Season 4 Needs to Get Right
After that shocking Season 3 final cliffhanger, the story of Tommy Shelby is up in the air.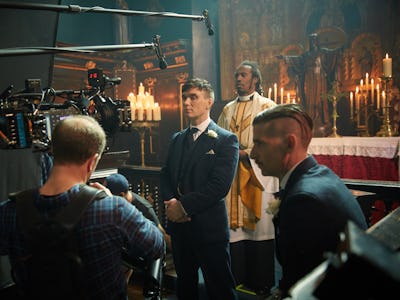 Netflix
All three seasons of Peaky Blinders have ended with absolutely bonkers finales. The narrative rug-pulls that creator Steven Wright's period crime drama managed to execute are almost peerless, with perhaps Breaking Bad in its heyday an exception in matching them thrill-for-thrill. But where that AMC show —also about a proud family man's less than legal fall from grace — had the ability to make it impossible to know where it would go next, Peaky Blinders leaves a few more hints for fans who want to play spoiler detective.
The Season 3 finale of Peaky Blinders seemed more convoluted than the previous two closing chapters. And when patriarch Tommy Shelby (Cillian Murphy) gathered his extended family into his office like Tony Montana by way of Birmingham in the episode's final moments, the bad news he gave them about his closest relatives being sent to the slammer made for one fascinating cliffhanger.
Grace (Annabelle Wallis) is dead; and Arthur (Paul Anderson), John (Joe Cole), Michael (Finn Cole), Polly (Helen McCrory), among others, are behind bars. So where is the show headed in Season 4?
Bring It All Back Home
One of fans' biggest gripes with Season 3 was that the Shelbys got too far, too fast. After marrying into a higher social strata and attempting to form a normal family with Grace, Tommy brought his rough and tumble brethren to a big country estate surrounded by a huge swath of land. It was a far cry from the smokey grey Birmingham slums where they got their start. Suddenly, some low life gangsters were hanging with high society, and the juxtaposition was supposed to be jarring as a way to ramp up the tension. Tommy may have thought he was untouchable because of all that luxury, but it just wasn't true.
In the finale, when parting ways with outlaw Georgian Duchess Tatiana (Gaite Jensen), the defeated Tommy offers up some wishful thinking about his future. "I'm going back to Birmingham," he says to her, "to buy a racehorse and have it trained." The writers could have Tommy do something as drastic as retreat to America, but maybe he just needs to go home. When Season 4 rolls around he should retreat back to where it all began, re-arm, and get back on that figurative horse to avenge his family. Plus, who doesn't want to see them all hanging out at The Garrison again?
There Has to Be a Price to Pay
Family is obviously a big deal in the world of Peaky Blinders, but Season 4 will be best served if it puts the focus on Tommy trying to win back his family's trust after selling them out to the authorities. It's heavily suggested that Tommy has a bigger plan than just being a rat. He'd never straight-up hand Arthur and everyone over to the police and leave it at that. His closest relatives might have been so upset in the Season 3 finale that they forgot about his loyalty to them as well.
This could obviously give rise to someone from inside trying to turn on Tommy to take over running the family business. Despite his superficial strength, John seems like he'd never turn on Tommy. Arthur seems to be loyal to a fault, but Tommy's actions ruined his utopian move to America with Linda, which could complicate things. Michael killed Father John Hughes, thus turning himself into a full-fledged gangster, but if he hadn't been so intent on killing, Hughes would have reached Finn in time to stop the explosion in the Season 3 finale. Like Michael Corleone in The Godfather, Michael Gray was once shielded from the family business but was ultimately sucked into the criminal underworld. He's probably the one stupid and conceited enough to make a play for the top spot in Season 4.
Don't Have Tommy Fall in Love Again
Both Tommy and the audience have learned he probably shouldn't fall for anyone, especially in his line of business. He sure had some dramatic ups and downs with onetime-double agent Grace before they entered into the shortest TV marriage ever. But without anyone to turn to in Season 4 besides his toddler son Charles, it might be that Tommy actually belives what he said to Tatiana, and will eventually to buy another horse from May Carleton. But having that character, last seen in the Season 2 finale, or really any other woman capture his heart would just be a rote replay of all the bad relationships he's had before. Keep the focus on the family, not the need for more family.
Balance the Big and the Small
Tommy's epic — if not a bit confusing — soliloquy in the Season 3 finale was telling. "I've learned something in the last few days: those bastards are worse than us," he tells his family, referring to the people with whom they mingled all season long. "Politicians, lords and ladies, they're all worse than us and they will never admit us to their palaces no matter how legitimate we become, because of who we are and where we're from."
Season 4 looks like it will dig deeper and go bigger into class warfare, and there's no way Tommy is going straight despite the last few episodes adopting the crime drama trope of "one last job." Father John Hughes was only a small part of the mysterious "Odd Fellows" organization forcing clandestine illegal government business on the Shelbys. This could get even more unwieldy than it was in Season 3, but the key for Season 4 is to make sure the focus of the larger context of the "politicians, lords and ladies" they deal with impacts the small scale Shelby family story. Tommy can't suddenly show up to the Houses of Parliament here.
Get a Better Villain
Paddy Considine played against type as Hughes in Season 3 and was effectively creepy throughout. But even in this highly exaggerated and stylish show, the character as written was fairly cartoonish and stereotypical, and his motives were mostly unclear. It seems like all priests characters are corrupt pedophiles these days, and Hughes was no exception. More government stooges will emerge in Season 4, but they have to be more dynamic and clearly defined than cheesy.