TNT's 'Animal Kingdom' is the American 'Peaky Blinders'
The new crime drama series, based on the 2010 movie, is nothing new, but it's a promising start.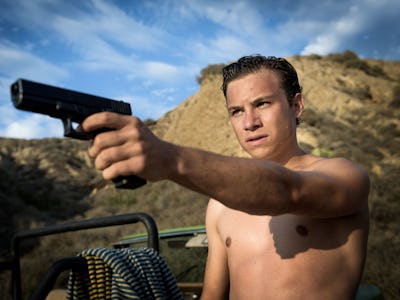 TNT
What is it about family crime dramas that makes them so appealing? Obviously, it has something to do with the escapist delight in engaging illegal acts that most law abiding viewers wouldn't dare commit – like, say, building a criminal empire around your family. But more importantly, these dramas highlight the fact that everybody has secrets, even family members who outwardly love each other. But it's whats inside that counts, even in the case of family ties. Those themes are at the heart of TNT's new show Animal Kingdom, which was adapted by Southland executive producers Jonathan Lisco and John Wells from writer/director David Michôd's 2010 movie of the same name. For now, the familial crime story of the Codys mostly recalls the BBC and Netflix's British crime drama Peaky Blinders, but it still leaved enough room to take most of its early story beats from Michôd's film, while attempting to branch out on its own.
The Cody family dynamic from the movie is basically the same in the show, but the TV series supplants the Melbourne suburbs with sunny California surf. Think of it like the original mixed with the bro-ish qualities of Point Break and the smash-and-grab excitement of the first Fast and Furious movie. As the series opens, ruthless matriarch Janine "Smurf" Cody (a sharply threatening Ellen Barkin) leads a close-knit brood of man-children whose unity and sibling rivalry is threatened by the unannounced arrival of their outsider relative at their illegal operation.
The Cody boys — hot-headed Craig (Ben Robson) and beta-male Deran (Jake Weary), along with friend and adopted brother Baz (Scott Speedman) — are suddenly reintroduced to their nephew Josh, aka "J" (Finn Cole), after the premiere opens to his mother lying dead, of an overdose, a scene wisely borrowed from the movie. J, who has never had a normal family, is eventually welcomed into Smurf's thieving and hard-partying flock much to the chagrin of jealous elder brother Pope (the seriously creepy Shawn Hatosy), who also returns unexpectedly after a stint in jail.
Despite J's initial awe at their lavish lifestyle of expensive flat-screens, jet skis, booze, and fast cars, the quiet math-whiz grows wary of being implicit in the family's illegal dealings. For maximum narrative tension, it just so happens this all goes down right before the boys are planning to pull off a big job.
This kind of macho brotherhood of bad guys has been done before, and not just in the original movie. Sons of Anarchy got through seven seasons of masculine dominance, and Fight Club basically defined that aggressively virile aesthetic on the big-screen, nearly two decades ago. But Animal Kingdom opts to go seriously straightforward with its male posturing, which makes it kind of cheesy, at times. But the basic premise and its family-centric outlook aligns it primarily with the early 20th century-set Peaky Blinders, which, weirdly enough, features Cole in a similar role.
Peaky Blinders is also about a matriarch (Helen McCrory as Polly) leading three brothers (Cillian Murphy as Tommy, Paul Anderson as Arthur, and Joe Cole as John) up the local crime ladder, and eventually introduces Finn Cole's Michael as the interloper looking in. Similarly, that show started off small, as does Animal Kingdom. The Codys rip off jewelry stores and simply fence the stolen stuff for relatively quick-and-easy cash. There isn't a hint that the Cody family is part of some grand criminal network yet, as far as we know they're a fairly self-contained bunch of criminals, but like Peaky Blinders, the show seems like it will gradually introduce higher stakes. An early exchange between Baz and a stuffed-shirt detective in a convenience store lets us know: at least the police are watching, and things quickly get heated later when a cop gets killed after the first big job goes bad.
While it doesn't have the grim WWI production design or the knack for iconic music (Peaky Blinders's use of "Red Right Hand" by Nick Cave and the Bad Seeds is still the best use of a single song on TV), Animal Kingdom does feature the same caliber of strong lead performances.
The standout is Barkins Smurf, whose searing, sexually assured performance is a combination of doting mother and man-eater. Speedman plays Baz with a closely guarded edge, as his character is quick to side with J's reluctance and is on the verge of calling quits on his life of crime. If the movie is any indication, he unfortunately, won't last long.
But the other truly great performance is Hatosy's Pope, who stalks around the Cody house with an icy remove like an unmasked Michael Myers from Halloween. Hatosy plays him as an injured and broken jailbird who expected to be openly embraced by his family, the only thing that mattered before he was sent away. Instead, J threatens the Peking order that Pope once ruled, and in the early episodes he decides to toy with both J and his unsuspecting girlfriend as they're slowly pulled into his unstable family hegemony. If the show continues the right way, Pope could be one of TV's best villains.
As with Peaky Blinders, it all goes back to the family on Animal Kingdom, even when the ties that bind begin to unravel. Regardless of what exactly goes wrong, the Cody boys know that they'll always have Smurf. "Only the best for my boys," she proudly declares to anyone in earshot. If the audience listens to Smurf like Craig, Deran, Pope, Baz – and now J – do, Animal Kingdom could be a bit hit, but insofar as the strong performances stay in the family.