'Peaky Blinders' Season 3's Early Surprise Death Is the Show's Boldest Move Yet
Love and marriage don't go well together for Tommy Shelby.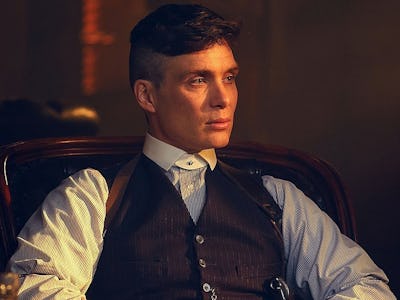 Netflix
Going to extremes isn't anything new for Peaky Blinders. The early 20th century British gangster drama, whose [third season just debuted]((https://www.inverse.com/article/15893-peaky-blinders-season-3-trailer-promises-hell-on-netflix) on Netflix, isn't afraid to push itself and its characters to the edge. But when the exaggerated criminal machinations of the Shelby family works, the show becomes one of the most gloriously twisted shows on TV. When it can't quite pull off the stylized tough-guy harshness, at least the grimy views of roaring twenties Birmingham are weirdly gorgeous to look at. The fact is that when the show, led by Cillian Murphy's opportunistic protagonist whose sometimes disturbing devotion to the Shelby clan gives being family oriented a whole new meaning, pulls off its bipolar developments it stays uniquely and constantly surprising. That said, the shocking events at the end of the third season's second episode are enough to take it to another level.
Huge Season 3 spoilers ahead.
In a move that may have surprised fans left wondering about the fate of the Shelby family and their allies at the end of the second season, Season 3 surprisingly begins with a wedding. The ceremony and the aftermath of the reception is perhaps an on-the-nose reference to The Godfather, whose own mafia storyline defined the genre and wasn't afraid to let go of main members of its central crime family. But as the season kicks off, Tommy stands at the altar in a bespoke tuxedo, free from his usual newsboy cap and cigarette. His crass and loud working class family that's made their way into the upper echelons of society by doing some very illegal things are on one side of the church. A stuffy, uniformed, and stereotypically British family on the other. The introductory shots of the bride, veiled in a purple mourning dress tell us one thing: Grace is his bride-to-be.
The marriage between Tommy and the pseudo-aristocratic Grace is an unexpected one. Last seen in London visiting fertility doctors with her rich American husband, she cavorted with Tommy after he introduced her to the finer but still slummy things in life his illegal business has afforded him. She ended up pregnant with his kid. You'd presume the whole paternity storyline would be a drawn out plot device heading into Season 3, but creator Steven Knight (who has also written every episode of the series so far) cuts to the chase. Grace's husband committed suicide under mysterious circumstances, Tommy must have swooped in to woo Grace and all her riches because he instantly gained a foot up by shifting social classes, and he "adopts" Grace's son as his own.
But the emotion and the Deer Hunter-like wedding celebration is for naught. This will be the shortest marriage ever.
Peaky Blinders has used Grace's impending death as a dramatic device before. Season 1's cliffhanger ending, with a single off-screen gunshot signaling that Sam Neill's inspector Campbell allegedly killed Grace when she was revealed to be double crossing him to the Shelby family, left viewers wondering how she'd make it out alive if at all. Sure enough, Season 2 kicks off with the same scene replayed from Grace's angle only to show that the gunshot came from a pistol she had concealed in her purse. She seemed like the one immortal character other than Tommy, but it was foolish to think that Peaky Blinders would let us assume that.
After dealing with a convoluted Communist spy plot and helping to begin to arm rebels via a trio of exiled Georgian royals all in Season 3's first episode, Grace's fate is sealed by the Shelby family's own business dealings trying to muscle in on territory in London. It seems in episode 2 Shelby brothers Thomas and Arthur insulted the son of the Italian Changretta crime family one too many times, and an assassin attempts to shoot Tommy at a fundraiser event. The Changretta assassin is knocked out of the way, but his gun goes off and kills Grace.
The show has flirted with such narrative upheaval before. Arthur nearly committed suicide but got a fateful reprieve when the rope he used to hang himself broke in the fifth episode of Season 1, Campbell nearly killed Polly after allegedly making a deal with her to get Tommy out of prison in the fifth episode of Season 2, and Tommy even came extremely close to getting executed in the final moments of the second season before being spared at the last second to set up the bigger geopolitical plans the British government has for the family heading into Season 3.
Grace's death is different. All points seemed to lead to Tommy trying to make it to a certain level of financial and familial comfort as a way to get out of the business. As stereotypical of the genre as it may be, it's unfortunate for him and fortunate for the audience. Tommy Shelby has changed back into his old self, one that deals with his family's problems with a merciless but assured temper. The Godfather references are even more appropriate now. Just when he thought he was out, they pulled him back in.