'Peaky Blinders' Season 3 Trailer Promises Hell on Netflix
Cillian Murphy returns to build the Shelby family's criminal empire.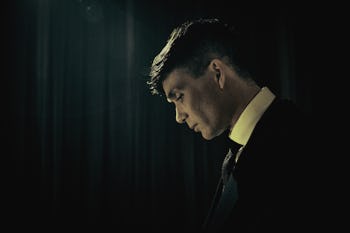 Netflix
Tommy Shelby (Cillian Murphy) was in a rough spot when we last left him in Season 2 of the crime drama Peaky Blinders, but a new trailer for the upcoming season just released by Netflix seems like things are looking up for his family's criminal empire — at least for a little bit.
Season 3 of what is basically the post-World War I British version of The Godfather drops on the streaming service on May 31, and the trailer makes it seem like there will be more drama, more familial strife, more great hairdos, more backstabbing, and more blood. Tommy and his family's less-than-legal dealings look to have become so big that they'll have to deal with the British aristocracy this season, kind of like how Michael Corleone took his mob family all the way to the Vatican in The Godfather Part III.
Look for a bigger emphasis on class struggle and upsetting the status quo in Peaky Blinders this time around, but don't expect the series to change completely. Tom Hardy's no-nonsense Jewish gangster Alfie Solomons makes another appearance, as does the family matriarch, Aunt Polly (Helen McCrory), who's the real leader of the family. "Look how far we've come," she says in voiceover, which, given the events of the first two seasons, is as ironic as it is sad. British actor Paddy Considine joins the bloody fun this season as Father John Hughes, who will most likely add some moral conundrums to Tommy's lust for power as he has to decide once again who is a friend and who is an enemy to the Shelby family.
Check out the trailer below:
How will Tommy navigate the Roaring Twenties? Find out and get ready to binge-watch again when Peaky Blinders Season 3 hits Netflix on May 31.