'UnREAL' Season 2 Premiere's 5 Most Shocking Lines
This show is built on snappy, jaw-dropping dialogue. Here's what last night's best lines say about this knotty, incredible show.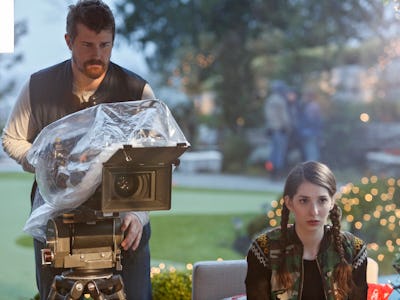 Bettina Strauss/Lifetime
We've gone over what to expect from UnREAL's button-pushing second season. During the premiere last night, the show's writers laid out whole chaotic, hostile new mise en scène, with a typically punchy script, dense with shocking one liners. As we journey into war between Chet (Craig Bierko) and Quinn (Constance Zimmer) for dominance of the Everlasting… franchise, and a presumptive season of race/gender scrimmages in front of and behind the camera, here's a review of last night's most shocking lines, and the importance they hold for one of cable's most beloved series of the moment.
"He's not that black, Gary… He's, like, football black." -Quinn
After a triumphant night of carousing in Vegas, and a couple of tats for Quinn and Rachel (Shiri Appleby), it seemed like Everlasting… was ready for production. But the station's head executive, Gary (Christopher Cousins), was far from pleased, mortified that a black man — notorious for yelling "Bitch, please" at a white female reporter — would be deemed "suitor material." This was Quinn's dismissive retort, part of a successful phone call selling the concept. All that seems to matter to Quinn, in all of her darkest moments, is "closing." The show implies that, in a world dominated by guys like Gary, it's what she has to do, but that doesn't make the monetization and framing of Darius's (B.J. Britt) blackness any less stomach-turning. It's a perfect example of the complex nuances that underscore the flashy, extroverted atmosphere of the show.
"I'm actually okay with you hurting yourself… in fact, I'm fairly certain that you will." - Jeremy
Chet came back from the jungles of Patagonia as a "chieftain of non-"pussy"-dom in the male human species, but Jeremy (Josh Kelly) bursts onto the scene as no less of a monster this season. This line seems to hurt Rachel more than nearly any other occurrence in the premiere. Later, in the episode, Jeremy declares his own war on Rachel by demeaning her, both personally and as a leader, in a group meeting about the "kill list," including a reference to a prospective contestant known only as "Hot Rachel." It's unclear whose battle is more uphill against gargoylish insecure men: Rachel or Quinn. "Old Jeremy wouldn't have [come back]," Jeremy sneers. "That guy was a pussy. That's why I killed him."
"For two potent young studs about to meet a willing herd of females, you two dont look as happy as you should be." -Chet
Chet's paleo rhetoric is truly out of control — almost unbelievable, at this moment — attempting to woo Darius and his manager Romeo (Gentry White) from Quinn and Rachel's clutches —we see that Chet isn't just trying to recapture his own "kingdom" by returning to Everlasting… but to elevate other Strong Men around him. His purpose seems twofold: sabotage Quinn's broadcasts and built an army in the process. Hellish stuff, indeed.
"You're like one of those wives whose husband beats them up and then gives them a big diamond ring." -Jay
Jeffrey Bowyer-Chapman's character often serves as the voice of reason of the show, though sometimes he finds himself in the weeds attempting to overcome professional adversity (see: his period as Chet's lackey last season). In the season premiere, he's back to seeing right through Quinn and Rachel's motivations and tactics, though he still can't quite find a good way to best them. What seems to repel him most is that Rachel, who is periodically feels sympathetic towards and tries to help during her lowest moments, is still "taking it" from Quinn. He's fully aware that Quinn will not relinquish control easily, especially when Chet is stepping on her toes. Jay observes that Rachel is still being as manipulated as everyone else by Zimmer's character, and accuses Rachel of going along with it just because of the payout for the "seven figure deal."
"Sorry Rachel made you do that." -Jeremy "That was amazing." -Madison
In Rachel's least sympathetic moment, she urges Madison (Genevieve Buechner) — who, as Rachel clarifies earlier in the episode was appointed to producer status by "Chet's penis" — to elicit a trailer moment from contestant Chantal (Meagan Tandy). The area of discussion, of course, is something truly horrible and deeply personal: Chantal's husband death in a car accident, when Chantal was driving. Madison, told by Rachel to "use" the death of her own mother to get results from Chantal, is in histrionic tears through most of the Q&A. Jay, Dr. Wagerstein (Amy Hill), and Jeremy look on in horror. But when Madison backs away from the scene to vomit after getting Rachel the shot she needs, the real turn comes: She loved it. Nothing is ever quite as it seems in the entertainment industry — or at least on UnREAL.