In 'UnREAL' Season 2, Black Lives Matter for Good TV
'Everlasting...' brings in a new, controversial cast, and Rachel and Quinn fall back into tearing each other apart all over again.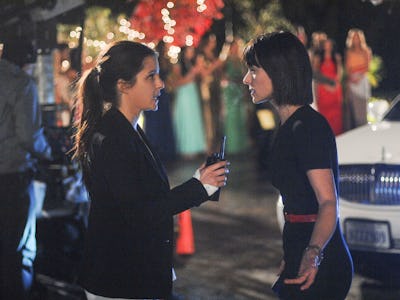 Lifetime's unexpected hit UnREAL is the most cynical show on television, and also one of the deftest. It bridges political and sociological talking points, melodrama, and belly-laugh comedy expertly, thanks to one of the best ensemble casts around — particularly its two leads, Shiri Appleby and Constance Zimmer. The well-earned second season finds the show at its highest point of exposure; the stakes to deliver on its promises, and scrutiny is at an all-time high.
Its real-life situation mirrors that of the show's fictional show-within-a-show: the ever-eventful, increasingly brutal Everlasting…. Quinn (Zimmer) and Rachel (Appleby), after the chaotic events of last season, have finally managed to take control of the series, creatively. But they need to best last season's suicide — as they off-handedly mention on a few occasions — to prove their mettle in ratings.
The would-be source of controversy this time? Race. B.J. Britt (Agents of S.H.I.E.L.D.) comes on board as Darius, as a star quarterback seeking to rebuild his fractured public image. The white-woman-and-black-man relationships (including one with an Instagram star notorious for wearing a Confederate Flag bikini) are guaranteed to rankle all viewers who dare to open their eyes. This is Rachel's quest, it seems; she fiercely pursues a Black Lives Matter bacherlorette contestant (Denée Benton), interrupting her college studies, to get the kind of of-the-moment, incendiary television she wants.
With Jeremy (Josh Kelly), Adam (Freddie Stroma), and Chet (Craig Bierko) out of the picture as love interests, all Quinn and Rachel have at the beginning of Season 2 is each other. But though they toast flute glasses of Dom ("Money, dick, power") and discuss industry domination, their relationship, always built on manipulation and blackmail, is still diseased. Rachel may be Quinn's near-equal in title, now serving as showrunner, but Quinn still edges her into doing all of the dirty work, especially when Rachel gets even the slightest thing wrong. Madison, promoted to producer after her tryst with Chet, certainly can't handle setting up the juicy bits like Rachel did.
In this loveless atmosphere, UnREAL reaches a level of bleakness never before seen on the series, even when Rachel and the other producers stooped to their lowest lows last season (say, swapping out pills or exploiting contestants' deepest personal trauma). A brutal battle of the sexes ensues in the first episode, when Chet returns from a paleolithic jungle retreat which turns him into a dogma-blathering, proudly sober macho-men's-rights obsessive. He then coerces Jeremy — furious at Rachel for her betrayal of him with Adam — into working with him to take over Quinn and Rachel's show, giving it a gaudy, misogynistic spin that's completely out-of-step with Everlasting…'s traditionally family-values-upholding tone .
Co-creators Marti Noxon and Sarah Gertrude Shapiro play the farce against the more naturalistic dramatic moments very well this season, as usual. The style of the show is even more frantic and gaudy, creating a palpable "anything goes" atmosphere from the very beginning, which finds Quinn and Rachel — decadently dressed — celebrating their success in debaucherous style. This season, it's Quinn and Rachel doing the lines and getting wasted, enjoying the good life while wary of the ground falling out from under them.
It's a man's world, no matter how wily they can manage to be, and their battle in Season 2, despite their power positions, is just as uphill as before. Power, as so many characters, find out in the season's first few episodes, is often an illusion in the corporate world. Ultimately, the network heads and Chet can still change up the game on them at any time.
The main question is: Will Rachel be able to handle the strain? How, how soon, or how many times will she reach her breaking point? Will it come, as it did before Season 1, onscreen? UnREAL is certainly going to be no less stressful this season.
UnREAL premieres tonight on Lifetime.