No Man's Sky' Delayed (Again) Until August 
To the surprise of no one, the gorgeous sci-fi adventure game has been postponed until August for minor adjustments.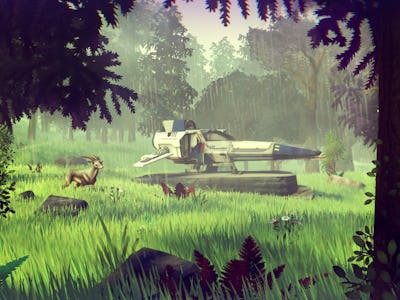 PlayStation / Flickr
The gorgeous sci-fi/space opera themes of No Man's Sky have made it one of Sony's most desirable and mysterious platform exclusives announced over the course of the last decade. Unfortunately, the demand for the game has yet to be met — nearly three years since its original announcement. Developer Sony has delayed the game several times, and while delays are always better than incomplete games, the timing is a bit disheartening. Weeks ahead of this year's Electronics Entertainment Expo, Hello Games' Sean Murray took to the Playstation Blog to explain the slight delay.
Though the post started out on a positive note, Hello Games' Managing Director didn't pull any punches. "The game really has come together, and it's such an incredible relief … I can finally let myself get excited. We're actually doing this," wrote Murray. "However, as we approached our final deadlines, we realized that some key moments needed extra polish to bring them up to our standards. I have had to make the tough choice to delay the game for a few weeks to allow us to deliver something special."
Though Sony's most recent game play update came only one month ago, No Man's Sky is being pushed back from its original June release date to mid-August. "We understand that this news is disappointing," Murray said. "Making this game is the hardest thing I've ever done in my life, but we are so close now, and we're prepared to make the tough choices to get it right." Murray went on to explain how the team behind the game is working hard to create the vast world promised to players back in 2013. Murray reassured players that development is going very well, and added a message of thanks for the ongoing support of the community.
This is the hardest working, most talented team I've ever worked with, and I'm so proud of what we're doing. For all our sakes though, we get one shot to make this game and we can't mess it up.
To the loyal community who's stuck by our side since the unveiling of No Man's Sky years ago, we hope you'll accept our sincere apology and I am humbly asking that you'll still look forward to exploring our universe despite the slight delay.
Despite being an indie title, No Man's Sky has held the gaming public's attention for years, and the slight nudge back isn't nearly as bad as games that still lack a release date.
No Man's Sky will launch in North America on August 9, in Europe August 10, and in the United Kingdom August 12.