'No Man's Sky' Director Sean Murray Still Won't Tell Us Anything About the Game
"You have to fight and carve out your survival," the game's director says in a new video.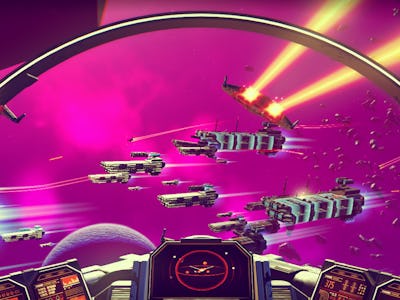 Hello Games
No Man's Sky is no longer some faraway notion coming at some point. The gigantic online space exploration game is coming June 21 to the PlayStation 4 and PC, and director Sean Murray has lately offered more revelatory insight into the game itself — and its future iterations.
In a video for IGN, Murray answered several of the community's biggest questions about No Man's Sky, two of which concern the game's future on PlayStation VR, and even a sequel.
"It would be super cool, you know?" Murray remarked about No Man's Sky on virtual reality platforms in the video. "As a kid growing up, my vision was strapping some helmet … and stepping into a computer-generated universe. I think that would be a cool thing to do."
It's a non-answer, which is pretty much the whole video: Murray expressing possibilities and his hopes, but omitting, you know, details. On the question of virtual reality, Murray indicates the small size of Hello Games means developing things a bit out of reach for the UK studio, but Murray is open to the possibility.
Murray also expresses he's open to the possibility of "more No Man's Sky." While the game is unreleased, and its future is TBD, Murray wants "the game to come out" with enough of an active player base to, in his words, "nurture [it]."
"As in, we can finally have a conversation with people," he says. "The game has had so much interest that it's hard to talk to the community, and you're talking about this concept rather than a real thing. So I want the game to come out for it to be real … and for us to kind of talk to them."
If you're looking for solid answers, Murray doesn't give any in the IGN video (although he revealed a great deal recently to io9 and Polygon about the game's intelligent aliens). He's still circling the same romantic ideas ("I would love people to just have that feeling landing on a planet, feeling like, 'I'm the first person to be here, and this is cool!'") set to moody techno.
At one point, Murray says "You have to fight and carve out your survival." He's talking about how players will engage in No Man's Sky, but a part of me feels like he's talking about the game itself. The hype to No Man's Sky is reaching critical levels that anything short of spectacular would be a disappointment. Perhaps the repetition and secrecy is just his way to keep the game small, and within reach. Just like its universe.
No Man's Sky will be released on the PlayStation 4 and PC on June 21.