Does Kygo's New Album 'Cloud Nine' Album Signal the End for Tropical House?
The Norwegian producer and DJ's underwhelming release emphasizes the microgenre's minimal potential for longevity.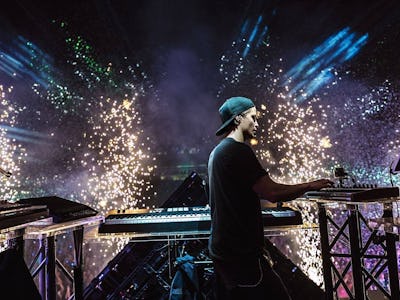 Dance music fads have never been known to last long. Neither are the artists who define a trend's particular sound. Even the heyday of disco really lasted only three or four years before its gestures were distorted and grafted onto other styles — new wave-y ones mostly — for the MTV era; that is not to mention Chubby Checker or Los del Rio.
These days, the huge sounds of EDM speed-ramping synths have dissipated; the sound popularized by acts like Calvin Harris and Zedd is no longer dominating Top 40. Skrillex is now producing for Justin Bieber. Sub out bone-crunching sine wave synth for MIDI pan pipe sounds, and snare drums for finger snaps, and you get closer to the central sounds in dance music these days.
Bieber's Purpose singles from last year, which either played with the sounds of "tropical house" or outright employed the style (the Poo Bear-produced "What Do You Mean"), are now fading from the top of the charts. Last year and the year before, the producers who gained a viral following from mixes which defined the sound are now getting a chance to prove themselves on bigger projects, or already becoming redundant.
An artist from last year who non-dance music devotees may not know by name, but have probably heard songs by, is Norwegian producer and DJ Kygo. Last year, he gained traction (millions to billions of views and streams) with hits like "Firestone" (which crossed over onto the Hot 100), "Here for You" and "Stole the Show," along with remixes like the pretty corny "Sexual Healing." All this came without an official release to his name.
Earlier this month, Kygo released his Sony-distributed debut album, Cloud Nine, which featured the hits he is hanging his hat on with: about 10 other songs in the same basic vein. The difference is a slight pseudo-symphonic scale. Kygo, as proven across all of his big single, has a penchant for melancholic, soulful hooks which built subtly to the "drop" of a primary synth riff and full snap-dominated drum beat. On Cloud Nine, there's more of that, with dramatic piano underpinnings, string sections, and occasional rock guitar blasts ("Fragile") for variation. These tracks are usually delivered by a slew of self-serious singers better known in areas of Europe than here, as well as, randomly, John Legend ("Happy Birthday") ever eager to cross genre boundaries and build his audience, no matter the quality of the project.
Kygo is a singles artist, and not an album man; even just 55 minutes of breakup songs with steel drum synth lines starts to sound tedious and, against its own intentions, soulless. No singers have repeat turns here, but they certainly don't get an opportunity to make their individual personalities clear. The singles and the tracks which shift from the formula even just slightly — the Will Heard-featuring "Nothing Left — are the most distinctive moments, or the ones like "I'm in Love," boasting a three-note melodic riff that you would give anything to get out of your head.
Cloud Nine should be Kygo's "grand statement, but instead it gives the listener the definitive sense that the beginning of the end for trop house is upon us. This album (itself nowhere near the charts, a couple weeks since release) is not bad, but Kygo can only riff so much on the musical sensibility for which he has become one of the de facto torch bearing. One gets the sense even Kygo — a talented multi-instrumentalist who many believe could be a pop star himself rather than just a semi-anonymous behind-the-boards kind of guy — getting a little bored and fidgety.
And so the lighter sounds favored by tropical house displaced EDM, and tropical house already seems to be approaching its expiration date. What will come next? Currently the charts are being dominated by pseudo-dancehall sounds courtesy of Rihanna and Drake; even Bieber's Sorry" (Skrillex's work) featured a beat derived from the Caribbean-area tradition. When Rihanna's "Work" rose all the way to #1 in popularity, "tropical house" was brought in relationship to its synth sounds, though rhythmically it celebrated Rihanna's Barbadian roots. With that song and Drake's "One Dance"'s omnipresence, it's hard not to wonder if it's time for Kygo's brand of tropical house to be subsumed by a new, full-on pop-dancehall craze.
It will be interesting to see what the charts, and European celebrity DJs's playlists, look like at the end of the year. Even Kygo understood, back at the top of this year, that whatever he had touched upon wasn't likely to last. In his February Billboard cover story, he quipped: ""I do have in the back of my head that you never know how long it lasts. I don't know if my music will be popular three years from now. I have to enjoy it while it lasts." Kygo's doubtless going to be commanding hefty crowds for a while, especially in Europe, but whether his (and cohorts like Felix Jaehns and Thomas Jack's) very specific, dreamy whistling synths will continue at the center of the pop music zeitgeist is quite another issue.