Justin Bieber Naked Emotionally on New Album
Bieber at his creative peak.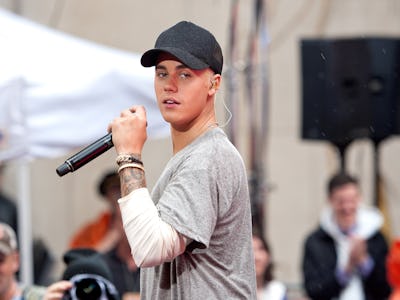 D Dipasupil/Getty Images
Justin Bieber is back. The Canadian heartthrob is truly having a moment, following the success of singles "Where Are Ü Now" and "What Do You Mean?" and a teary-eyed performance at the VMAs. He'll look to keep the momentum going when he releases his next album, Purpose, on November 13. But what can we expect from an artist who's transitioned from sugar pop into R&B and now EDM-lite?
Tracing Bieber back to his "Baby" days will bring you to entirely different singer. He was just a kid, albeit one with serious vocal chops. He's always been the longing type, though. On "Baby," he pleads simply, "Thought you'd always be mine."
He grew up a bit on 2012's Believe. For one, his voice dropped to the more familiar adult voice of today. He still lacked the songwriting nuance that he now has, but he began to show increasing complexity. On "Boyfriend," for example, he's convincing, not lost: "If I was your boyfriend, I'd never let you go." Little boy's desperation begins to give way to grownup (or at least adolescent) confidence. And even with a post-pubescent voice, he maintains his vocal range and nails falsetto throughout the track.
Until 2015's hits, Bieber's best output was the 2013 compilation Journals. He largely ditched the acoustic guitar and embraced R&B/hip-hop production. He'd worked with rappers previously (Nicki Minaj, Ludacris, Big Sean, and Drake), but bringing on R. Kelly for "PYD" and Future for "What's Hatnin'" felt like a real step toward a permanent transition — not just big-budget guest spots. Bieber did have a number of cowriters throughout the project, but the album sounded like a collection of Justin Bieber, not just pop hits. He stumbles, as on "Hold Tight" when he sings, "Want you wrapped 'round my arm like a wristwatch." Those missteps, though, are crucial to identifying what is necessary and what's filler in writing a memorable song. On the same song — an outstanding ballad — his hook is a double entendre: Her lips holding him tight, but he's also encouraging her to stick with him for love's wild ride. It's a savvy move for a young songwriter.
Following Journals, he appeared to be working on a legitimate R&B album. He posted a number of studio clips to Instagram, including a collaboration with DJ Mustard that was instead given to Big Sean for "I Don't Fuck With You."
Bieber took a bit of a hiatus in 2014, saving his appearances for more embarrassing moments, like his infamous TMZ-captured lawsuit deposition. Diplo and Skrillex, however, got Bieber back on his feet with "Where Are Ü Now," a slow-burning banger that never quite reaches a drop-like climax.
In addition to the killer production, what makes "Where Are Ü Now" so memorable is Bieber's pristine singing. He no longer relies on throwaway lines that only serve to showcase his vocals. He also feels less of a need to be definitive. It's not clear where the "Ü" of his affection has gone, but she's simply not there anymore. He keeps his verses brief, giving enough insight ("I gave you attention when nobody else was payin'") without inundating the listener with the exact why or how of why he needs her.
He kept the momentum going on "What Do You Mean?" and brought Skrillex back to provide a filling-yet-airy backdrop. A lot happens in the background, but the marimba-like electronic beats do not overpower the song. The clock tick is also a subtle reminder that Bieber is longing without expressing too much desperation. The song has its slip-ups — Lena Dunham, among others, expressed her disapproval of Bieber's "What do you mean when you nod your head yes, but you wanna say no?" — but it's lyrically cohesive. There are no stray similes or metaphors. He lays out his concerns, but doesn't get distracted from his central thesis. It's a complex song that doesn't just ask for someone's love. He asks how he can improve himself to better understand her.
The songwriting on Purpose should be strong throughout as Jason "Poo Bear" Boyd — who has contributed greatly to the 2015 singles — continues to bring out Bieber's best. It's likely going to be full of EDM-friendly songs, too. Without crashing drops, Bieber's EDM songs are enjoyable to listen to at a massive festival, on the radio, or just alone in a bedroom. There's an emotional buildup without a jarring comedown. As with traditional pop songs, the choruses are the peaks. They're fun to sing, though, not just go nuts for, as with Skrillex's solo work. The softness of the production pairs well with his still-delicate voice, as well.
Even without a confirmed tracklist, Purpose is setting up as Justin Bieber's time to be taken seriously. He's learned from some very public mistakes. He's done his pop industry due diligence. He can insert his own personality more than ever into his music. He's had a voice since he was 13. It's finally time to listen closely.