Tim Cook Plans to Open Used Apple iPhone Stores in India
The Apple CEO wrapped up a trip to the country with an interview on local TV.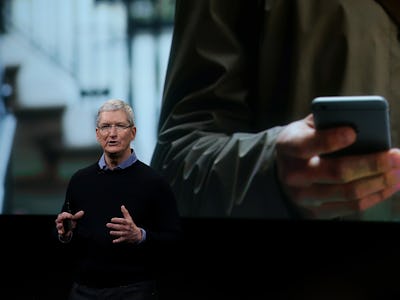 Justin Sullivan/Getty Images
On the tail end of Apple CEO Tim Cook's trip to India, he announced several initiatives to increase the company's influence in the growing country, including new Apple stores that will sell used iPhones.
Cook discussed the plans in an interview with NDTV's Vikram Chandra in which he said the company is closely following the roll out of 4G connectivity in the country, and his plans to create 4,000 jobs in India to develop Apple Maps.
Apple has not done well in international markets such as India in the past, largely because iPhones and other Apple devices are sold at a premium price and lose out to other Android makers. Cook's plan to build Apple stores that sell used iPhones could be a major step to securing the market.
"We have not been given the green light yet," Cook said of the company's plans to build new stores. "We have applied for the right to do that and we're looking closely with the government and I'm really optimistic about it."
Following this trip, Cook is signaling that the company will do a lot more to invest in the country, which has a population of more than 1 billion people.
Because of weak signal status in the country, many of the pre-installed apps on iPhone such as iBooks and Apple Pay don't even work in India. During the interview Cook alluded that he and the company may have made some investments or cut some deals to speed up India's mobile internet network. He said he's very confident that in "the next several months" 4G connectivity will be more widely available in India.
Cook also said he met with local banks to discuss and "understand their perspective" for how the company could bring Apple Pay to the country.
"We want to bring every service that we do to India, every one," Cook said. "We want to deeply understand the market here and if there's something unique that's needed, we also want to do that."