Apple's New Office Will Focus on Maps and Broadening Sales in India
One of Apple's most important everyday apps now has an office dedicated to its round-the-clock management.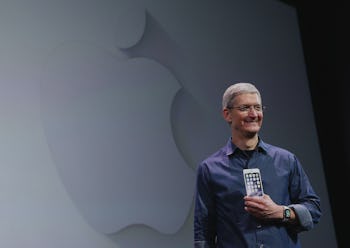 GigaOm
Earlier this week, Apple announced an all-new office opening in Hyderabad, India. Apple's Cupertino residence is still being beefed up in California, but in the meantime, the tech giant is looking to expand its focus on one of its most commonly-used apps. The new facility, which Apple invested $25 million in, will stretch 250,000 square feet and — Apple hopes — will employ roughly 4,500 new Apple staffers. "The talent here in the local area is incredible," said Apple CEO Tim Cook. "We are looking forward to expanding our relationships and introducing more universities and partners to our platforms as we scale our operations."
The facility's purpose stretches further beyond an effort to capture a larger portion of the Indian market. Apple's Maps app is still relatively new to the market; before its 2012 debut, iPhone customers used Google's popular Maps app. While Apple reports that Apple Maps is used 3.5 times more frequently than its competitor, a stark lack of features and functionality have kept the app at a steady, lower rating than Apple prefers.
The move comes in response to the company's recent decline in sales on the Indian smartphone market, a massive consumer base which Apple only captures 2 percent of. Despite having the biggest presence in India's 4G market, Apple has been facing a projected decline in sales, and sits behind much cheaper models such as Lenovo and other less internationally known brands. With a climb of 76 percent in sales within India during the same quarter from the previous year, Apple is aiming to keep its streak moving upwards and avoid anything resembling a lull in sales. Apple's eyes have been set on the Indian market for a while now, so it's no surprise that the company is buckling down for this move.